Chinese autonomous unmanned air vehicle (UAV) giant EHang conducted its first trial flight in the United States, as it works towards getting certification for passenger flights in the country.
EHang's two-seater passenger-grade aircraft, the EHang 216, took to the skies for the flight during the North Carolina Transportation Summit. It did not carry any passengers.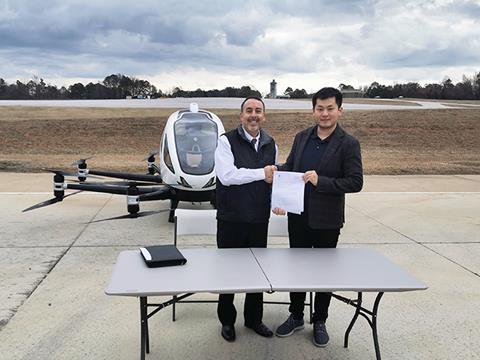 The company, which in December was listed on the Nasdaq stock exchange, states the flight was approved by the US Federal Aviation Administration.
"While this was a non-passenger flight, EHang is working with the FAA to secure approval for a passenger trial flight of the EHang 216 in the near future," it adds.
EHang founder and chairman Huazhi Hu says the trial flight "represents a significant step towards bringing our urban air mobility solutions to the US market".
The EHang 216 aircraft was also involved commercial sightseeing trial flights in Guangzhou in November. Last year, EHang picked its home base of Guangzhou to be an urban air mobility testbed.
EHang has to date conducted over 2,000 test flights in multiple countries, such as Austria, Qatar, China as well as the United Arab Emirates.
As of 5 December, the firm says it has delivered 38 UAVs to its customers.