Japan Airlines has conducted the first series of test flights using UAVs to transport freight, including one involving fresh fish from Nagasaki to a Tokyo restaurant.
The flights, which spanned two days, were operated in cooperation with the Nagasaki Prefecture government. JAL adds that Yamaha Motor piloted the UAV during the test flights. The rotorcraft UAV used was Yamaha's Fazer-R G2
For the first test flight on 18 February, the UAV helicopter transported freight packed in a cool box over a distance of about 46km from Kamigoto Airport to Ojika Airport.
"During the trial, the temperature in the cool box was logged to make sure the environment for transported goods can be kept at a certain level throughout the flight," JAL states.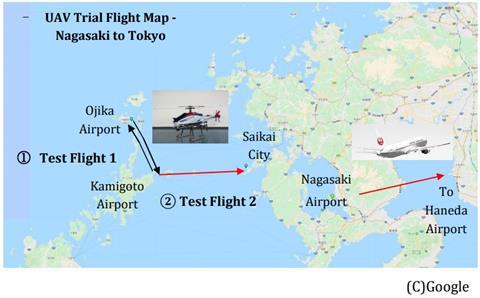 The next day, the UAV transported 20kg of fresh fish, from Kamigoto airport to Saikai city in the prefecture, over a distance of about 35km.
The fish was then transported by truck to Nagasaki airport, before being loaded on a passenger flight to Tokyo Haneda airport.
"The fresh fish was ultimately served at a restaurant in Tokyo on the same day," JAL notes, adding that checks revealed the temperature within the cool box remained constant throughout its journey from Kamigoto to Tokyo.
The test flights are the latest in a string of UAV-related activity JAL has embarked on. It has inked a cooperation agreement with Bell Helicopters to explore urban air mobility opportunities in Japan and around Asia.
In January, it also tested UAV flights to deliver medical supplies to rural areas in the country.
"JAL aims to develop a new type of air cargo service in the industry with UAV technology, as the airline foresees demand for such services in the near future," the carrier states.