Boeing has been awarded contracts worth more than a combined $3.1 billion to produce a next batch of 15 KC-46A tankers for the US Air Force (USAF) and the first four examples for international customer Israel.
Announced by the US Department of Defense (DoD) on 31 August, the Lot 8 production deal for the USAF is valued at over $2.2 billion. The sum will cover production and deliveries of the 767-based type to be completed by 30 November 2025.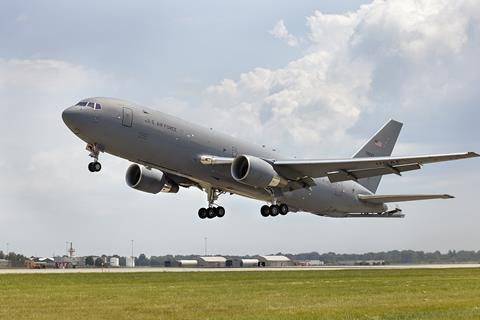 Cirium fleets data indicates that the USAF has a currently 61-strong active inventory of KC-46As, with one further aircraft in storage. The service has a programme of record requirement to eventually operate 179 of the type, which is being acquired to replace its oldest Boeing KC-135s.
Also on 31 August, the DoD confirmed a $927 million Foreign Military Sales contract to equip the Israeli air force with four of the in-flight refuelling platforms.
"This contract is also issued for the non-recurring engineering design and test for the Remote Vision System 2.0 and the Air Refueling Operator Station 2.0 mission equipment and installation, pre-delivery integrated logistics support, and technical publications," its announcement states.
Work under the Israeli order will conclude by 31 December 2026, the DoD says.
Israel is the second international operator to have committed to the KC-46A, with the nation planning to eventually acquire up to eight examples. The Japan Air Self-Defence Force currently has two of the tankers in use, from a four-unit order.

Craig Hoyle joined Flight International in 2003, and has edited the now monthly title since 2015. He has reported on the UK, European and international military aviation sector for more than 25 years, and produces our annual World Air Forces directory.
View full Profile