Aero Vodochody has demonstrated its L-39NG in Hungary as it continues to hunt further export opportunities for the modernised variant of the single-engined Cold War jet trainer.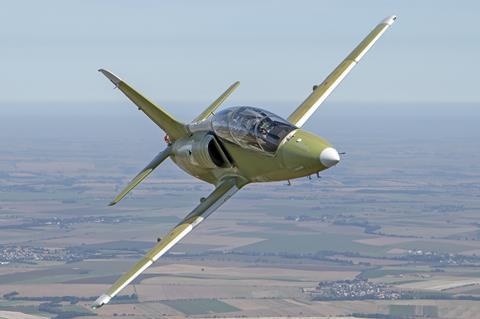 The Czech manufacturer in the last week performed three evaluation flights with its second prototype at the country's 59th air force base, with Aero Vodochody and Hungarian Saab Gripen pilots on board. They included air force chief Major General Nandor Kilian, who describes the L-39NG as "a good and modern training aircraft with a great potential".
Until 2009, Hungary operated a squadron of the original L-39 Albatros, and has also trained pilots on leased examples of Aero Vodochody's L-159 advanced trainer.
In September, the Czech defence ministry certificated the L-39NG, clearing the way for Aero Vodochody to demonstrate the aircraft in international airspace and launch customer deliveries.
The company flew the Williams International FJ44-4M-powered L-39NG for the first time in December 2018. It has orders for 26 aircraft, with military flight training providers RSW Aviation and SkyTech taking 12 and 10, respectively, while the Senegal air force has committed to four.
Earlier this year, Hungarian entrepreneur Andras Tombor bought a 51% stake in Aero Vodochody from its previous owner, Czech investment firm Penta, while the Czech Republic's national defence agency Omnipol will hold the rest.
In June, the Czech government made a pitch to neighbour Slovakia, offering participation in the programme and an in-country training package in return for an order for eight L-39NGs.