Boeing has signed a deal with Indian MRO firm Air Works to support New Delhi's fleet of P-8I Neptune maritime patrol aircraft, as well as the Indian air force's VIP transport fleet.
The Air Works deal is the first step under a new Boeing initiative in India that it labels 'BIRDS' – Boeing India Repair Development and Sustainment – says the company. BIRDS is envisaged as a network of Indian suppliers that can provide MRO support for Boeing defence and commercial aircraft.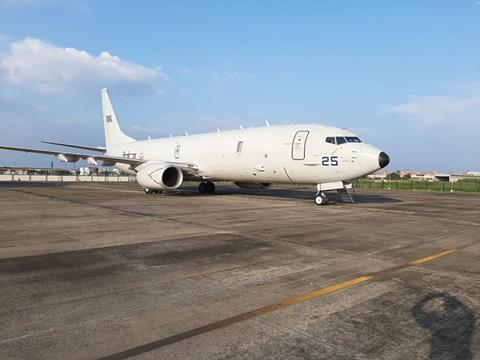 "This strategic agreement with Air Works positions us to generate significant value for our defence customers locally by delivering faster turnaround, exceptional operational capability and mission readiness on Boeing aircraft," says Surendra Ahuja, managing director, Boeing Defence India.
"This is an important step in our commitment to the government of India's Atmanirbhar Bharat vision of developing India as an MRO hub."
Cirium fleets data shows that India's navy operates nine P-8I Neptunes with an average age of 6.9 years. It has outstanding orders for three additional examples. The P-8I – based on the Boeing 737-800ERX – is the Indian navy version of the P-8A Poseidon flown by the US Navy for maritime surveillance and anti-submarine warfare.
The Indian air force operates nine aircraft in the VIP mission, of which three are BBJ 737-700s.