Airbus Defence & Space and Malaysian firm Boustead Heavy Industries (BHIC) will explore the possibility of fixed-wing aircraft maintenance, repair and overhaul in the Southeast Asian country.
The two companies have signed a memorandum of understanding to explore how they can work together to advance local MRO capabilities.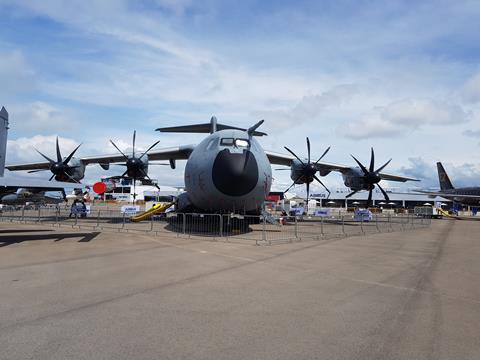 "Airbus has enjoyed a very successful partnership with BHIC on military helicopter MRO and pilot training," says Johan Pelissier, Airbus Defence & Space's Asia-Pacific head.
"We are excited to now strengthen this strong alliance as we study the possibility of expanding our local industrial presence to cover both rotary wing and military fixed-wing MRO solutions, bringing better convenience to our customers."
He adds that Airbus wants to contribute to Malaysia's Capability 2055 plan, specifically how it relates to a long-running requirement to obtain a new fixed-wing maritime patrol aircraft (MPA).
In August 2020, Kuala Lumpur released a tender for two MPAs. Contenders for the requirement are understood to include the Airbus C295, Leonardo ATR 72MP, and the Indonesian Aerospace-produced CN235.
In addition, the Royal Malaysian Air Force operates four A400M tactical transports and 12 Airbus Helicopters H225Ms.
"We have identified the aerospace sector as one of the key growth segments to steer the company forward. BHIC is casting our net wider in this sector to enlarge our market base by capitalising on our existing facilities and MRO expertise," says Boustead chief executive Sharifudden Al-Manaf.
The two firms have a history of partnering together. Their BHIC Aerospace Service joint venture supports MRO for military helicopters, and their Airbus Helicopters Malaysia Simulation Centre has the region's only simulators for the H255 and H225M.