Eighteen years after it signed a combined development and production-phase contract with seven European nations for the A400M tactical transport, Airbus Defence & Space has handed over its 100th operational example.
Transferred from the company's San Pablo final assembly site in Seville to the Spanish air force's Zaragoza air base on 24 May, the milestone Atlas (MSN111) joins nine examples already fielded by the service.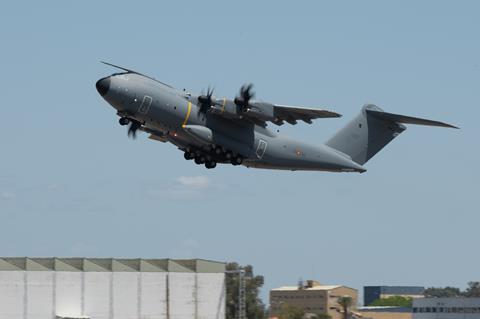 Madrid has ordered 27 A400Ms, with the type a replacement for its Lockheed Martin C/KC-130Hs: the nation ended Hercules operations last December.
In addition to Spain, the air forces of Belgium, France, Germany, Luxembourg, Spain, Turkey and the UK have also fielded the A400M, along with lone export buyer Malaysia, which acquired four examples. The nations' combined commitment is for 174 of the aircraft.
Separately, Airbus says the operational Atlas fleet passed the combined 100,000 flight hour mark in late May. Operations with the type began in October 2013, with lead user the French air force.