Airbus Defence & Space has secured a contract from the Royal Australian Air Force (RAAF) to use data analytics to better support the air refuelling boom system used by service's A330 multi-role tanker transports (MRTTs).
The company says that by using data analytics, maintenance costs will be reduced and fleet availability improved. The A330 MRTT is designated KC-30A in Australian service.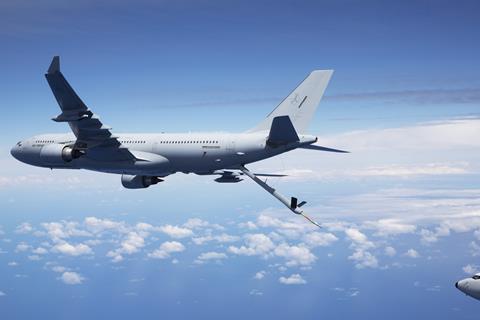 "The Central Data System plays a key role, allowing operators to draw on the flight data recorded by the Mission Recording System and provides information outputs about issues registered during the flight and recommended maintenance actions to fix them," says Airbus.
The KC-30A's Central Data System stems from a collaboration between Airbus, the Australian government, and support provider Northrop Grumman Australia.
Canberra's A330 MRTTs can refuel other aircraft via the boom or through hose-and-drogue pods beneath the aircraft's wings. The boom, however, is of critical importance given that most of the RAAF's fleet in the 2020s, including the Lockheed Martin F-35A, will use the boom method for air-to-air refuelling.
The exceptions are the Boeing F/A-18A/B, which is being retired, the F/A-18F Super Hornet and EA-18G Growler. These aircraft refuel via the hose-and-drogue method.
Moreover, the boom is widely used by allied air forces with whom the RAAF cooperates.
Airbus says the initiative is based on the company's SmartForce digital services suite, which aims to improve troubleshooting, optimise maintenance, and enable predictive maintenance for military fleets.
"The Central Data System delivers a significant capability benefit for the KC-30A aircraft and demonstrates the strong commitment within the KC-30A enterprise to innovation and improvement," says Group Captain Scott Parry, commander of Australia's Heavy Air Lift Systems Program Office.