Airbus incurred a fresh €1.2 billion ($1.3 billion) charge against its A400M tactical transport programme in the fourth quarter of 2019, having "reassessed its assumptions on future export deliveries".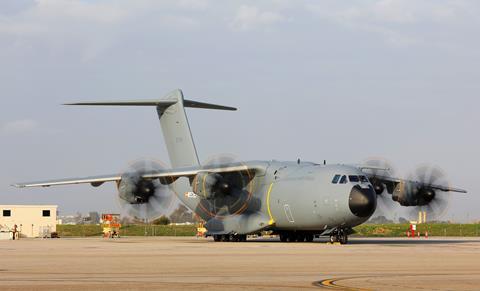 Detailing the development in a full-year results announcement on 13 February, Airbus says: "While the rebaselining of the A400M programme was completed and significant progress has been made on technical capabilities, the outlook is increasingly challenging on exports during the launch contract phase, also in light of the repeatedly extended German export ban to Saudi Arabia."
Airbus chief executive Guillaume Faury describes the German government's action as creating "significant headwinds on export", and says the company is "awaiting clarification" regarding its potential further impact.
Berlin's current stance also has affected Riyadh's in-service fleet of 72 Eurofighter Typhoons, meaning that a potential follow-on deal for the type being brokered via the UK government has yet to materialise.
Following the agreement of a so-called rebaselining plan for the A400M with its European launch operators last year, Airbus Defence & Space says "retrofit activities are progressing in line with the customer-agreed plan". It adds: "In 2020, development activities will continue towards achieving the revised capability roadmap."
A total of 14 A400Ms were delivered to customers last year, which Airbus says resulted in the in-service Atlas fleet standing at 88 examples. This is just over half-way through its contracted programme total of 174 for Belgium, France, Germany, Luxembourg, Malaysia, Spain, Turkey and the UK.
Separately, Luxembourg's lone A400M has undergone its first engine runs at Airbus Defence & Space's San Pablo final assembly site in Seville, Spain. To be operated in conjunction with the Belgian air force, the nation's aircraft (CT-01) is scheduled to make its debut flight within the coming weeks.