Ascent Flight Training will later this year begin a tender process that will ultimately see it train rear crews for aircraft – plus pilots for unmanned platforms – across the Royal Air Force (RAF) and Royal Navy (RN).
An expansion of the current Military Flight Training System (MFTS), the new syllabus will be delivered under the Future ISTAR and Rear Crew Training System (FIRCTS).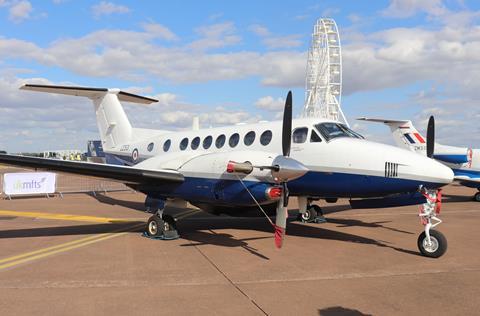 Scheduled to deliver an initial capability in 2025, sensor operator training will take place at RAF Cranwell and RNAS Culdrose using a mixture of synthetic devices and a fleet of four Beechcraft King Air Avenger T1s.
Ascent will run competitive tenders for two lots: the first covering the provision of ground-based training equipment at both sites, and the second for aircraft services using the existing fleet at Culdrose. The latter contract is currently held by Draken Europe.
Adrian Rowlands, programme manager at Ascent, says the goal of FIRCTS is to "bring together as part of one coherent system" a number of separate training regimes currently delivered at service level.
Rear crews will be trained for the RAF's Boeing P-8A Poseidon and RC-135W Rivet Joint, and Beechcraft Shadow R1 platforms, alongside those for the RN's Leonardo Helicopters AW101 Merlin and AW159 Wildcat helicopters. Pilots for the RAF's on-order fleet of General Atomics Aeronautical Systems Protector RG1 unmanned air vehicles will also be brought into the system.
In addition, analysis is ongoing to determine role requirements for operators working in the RAF's future Boeing E-7 Wedgetail airborne early warning fleet, Rowlands told FlightGlobal at the Royal International Air Tattoo on 15 July.
Under FIRCTS, annual throughput will quadruple to 140 trainees through the greater use of synthetic training, he says. However, an element of live flying will be retained, with the King Airs to fly a total of 2,500h each year.
An industry day will be help on 26 July for interested parties, leading to the release of a request for proposals in October this year; responses to the tender are due in February 2022. The new contract will run from 2025 until 2033.
Ascent is a joint venture between Lockheed Martin and Babcock.

Dominic Perry is deputy editor of Flight International but also contributes extensively to flightglobal.com. Although specialising in the coverage of the helicopter industry, he has written on most topics in aerospace – be they commercial, defence or business aviation. In addition, there has been an increasing focus on the decarbonisation of the industry and zero-emission flight initiatives.