The air forces of Australia and South Korea have entered an agreement to cooperate on air-to-air refuelling.
The pact will see the Republic of Korea Air Force (ROKAF) and Royal Australian Air Force (RAAF) align air-to-air refuelling procedures to improve interoperability between the two forces, according to Australia's Department of Defence.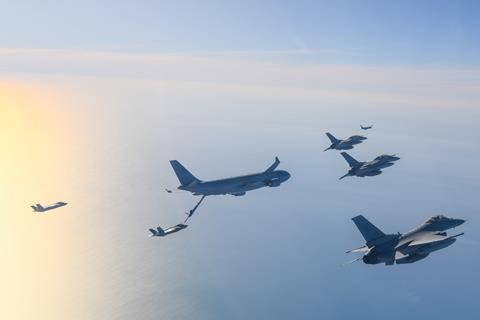 It adds that the two air forces regularly conduct exercises, and that air-to-air refuelling is among key elements.
Both nations operate the Airbus Defence & Space A330 Multi-Role Tanker Transport (MRTT). Cirium fleets data indicates that Australia has six examples and South Korea four – the MRTT is designated KC-30A in Australian service.
The other operator of the type in the region is the Republic of Singapore Air Force, with six examples.
"This helps further ensure that our two air forces can support one another in the skies, during exercises and training activities and on any future operations," says RAAF Air Vice Marshal Darren Goldie.
"The transfer of fuel when required to sustain and prolong our presence in the air is critical to our aircraft being able to successfully project air power."
The two have already conducted tanking operations with each other in the past, mostly recently with South Korea sending an MRTT to Exercise Pitch Black, which took place in northern Australia from 19 August to 8 September.
"As strategic partners, various collaboration between the two countries should take place in the future," says ROKAF Lieutenant General Park Ha Sik.
"This implementing arrangement will be the ironclad foundation for the development of the military cooperation between Australia and the Republic of Korea."
Separately, the ROKAF and the US forces are conducting a large scale joint air training exercise called Vigilant Storm.
The work involves 240 aircraft from the ROKAF as well as the US Air Force, US Marine Corps, US Navy, and US Army. The RAAF has also dispatched a KC-30A to support the exercise.