GE Aviation's Catalyst engine will power a future four-nation fleet of Eurodrone unmanned air vehicles (UAVs), following a selection decision by prime contractor Airbus Defence & Space.
Confirming its choice of GE company Avio Aero as propulsion supplier on 25 March, Airbus said it picked the European-designed turboprop after "a competitive tender process, as well as an extensive technical analysis phase".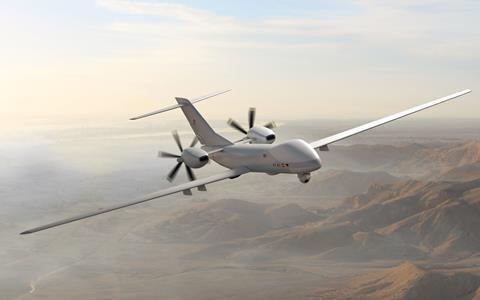 "The Catalyst was identified as the best solution based on superior performance, lower developmental risk, better in-service economics as well as growth potential," says Airbus Defence & Space head of military aircraft Jean-Brice Dumont.
"This selection will ensure that the Eurodrone programme can proceed on time, on cost and in line with the specifications laid out by our customers," he adds.
The other potential power option for the UAV had been Safran Helicopter Engines' Ardiden 3TP.
"Key aspects in the selection of Eurodrone suppliers are competitiveness, performance, the ability to meet the demanding delivery schedule and the capacity to meet the in-service demand," Airbus notes.
GE Aviation conducted the first flight of the Catalyst engine on 30 September 2021. Textron Aviation also has selected the propulsion system to power its Beechcraft Denali single-engined turboprop.
A joint effort involving France, Germany, Italy and Spain, the Eurodrone programme will deliver a combined 20 systems, each including three medium-altitude, long-endurance UAVs and supporting ground infrastructure. A joint development and production contract was approved on 24 February 2022, with first flight of a single prototype aircraft scheduled to be performed from Manching in Germany within five years.