BAE Systems secured orders worth £37 billion ($44.5 billion) in 2022, up from almost £21.5 billion during the previous 12 months.
"Importantly for the future, we booked a record year of order intake and significantly increased the backlog," chief executive Charles Woodburn said while discussing the company's annual results on 23 February. Its backlog stood at £58.9 billion at year-end.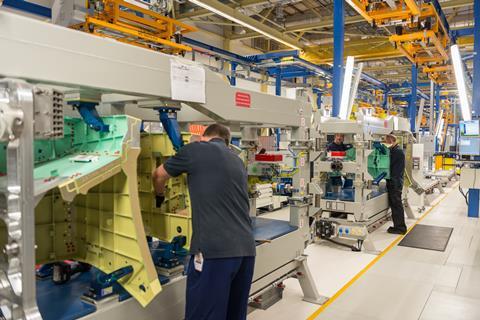 Among the business highlights for its Air sector – which accounted for £14 billion, or almost 38% of total orders last year – BAE highlights a five-year support deal with Saudi Arabia, valued at £7.8 billion, and its involvement in the Lockheed Martin F-35 programme, which was worth £1 billion.
BAE has reached full-rate production of rear fuselage sections for the F-35 programme, and completed 150 of the assemblies in 2022 at its Samlesbury site in Lancashire. The company earlier this month delivered the 1,000th such structure to have been completed since shipments commenced in 2005.
Additionally, BAE last year delivered its first eight of 24 Eurofighter Typhoons on order for Qatar.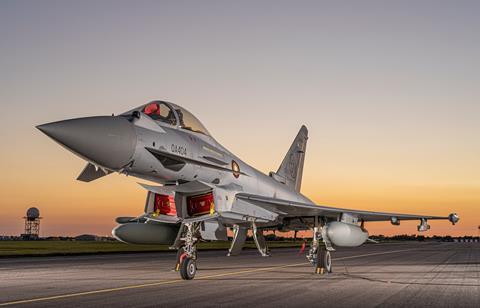 Woodburn says he expects to see the positive impact of increasing defence budgets on the company's figures during future years, noting that BAE's bumper orders last year were largely linked to contracts which had been in place prior to Russia's February 2022 invasion of Ukraine.
"Defence spending is high on many national agendas today, with long-term spending commitments and recapitalisation programmes under way in many areas," Woodburn notes.
Pointing to the company's domestic business presence in the UK, the USA, Australia and the Middle East, plus its production role on the F-35 and 37.5% stake in guided weapons specialist MBDA, he says: "We are uniquely well placed to compete in multiple allied defence and security markets."
Woodburn also views Japan – which last year entered into a joint Global Combat Air Programme with the UK and Italy – as holding strong business potential for BAE, with Tokyo planning to double its annual defence expenditure.
"There will be further opportunities there," he says. "We need to stand up the Global Combat Air Programme effectively and then hopefully exploit those opportunities that will come in other sectors, and make ourselves very strong partners with MHI [Mitsubishi Heavy Industries]."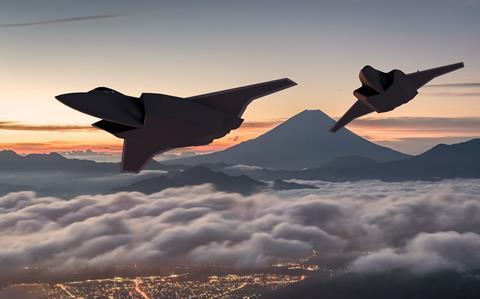 Asked about the potential of securing new aircraft sales to Riyadh, Woodburn comments: "We are working on developing a couple of quite significant opportunities there", without disclosing further details.
BAE has long eyed a Royal Saudi Air Force need to acquire a follow-on batch of Typhoons, to bolster the 72 which it already has in operation. It also last year announced an agreement with Embraer to jointly market the Brazilian company's C-390 transport in the kingdom.
The UK company's Air sector business ended 2022 with an order backlog valued at £24.4 billion – up from £17.8 billion a year earlier.

Craig Hoyle joined Flight International in 2003, and has edited the now monthly title since 2015. He has reported on the UK, European and international military aviation sector for more than 25 years, and produces our annual World Air Forces directory.
View full Profile