BAE Systems Australia will build a new warehouse to help support Lockheed Martin F-35s in Australia and the broader region.
The warehouse will be located adjacent to the RAAF Willliamtown in the state of New South Wales, says BAE.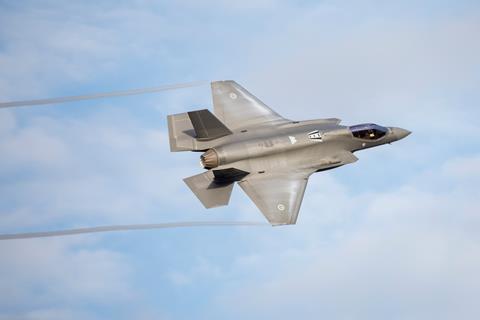 The announcement follows an A$1.6 million ($1.1 million) contract from Lockheed.
"The establishment of a regional warehousing and distribution network for the Indo-Pacific will increase F-35 operational resilience for Australia and regional F-35 operators, including US forces deployed in the Indo-Pacific," says Warren McDonald, chief executive of Lockheed Martin Australia.
"The regional warehouse will create approximately 20 immediate jobs as part of a growth path to more than 500 long-term F-35 sustainment jobs in future years."
The warehouse will be part of the F-35's Global Sustainment System.
"I am delighted that we are expanding our contribution to the F-35 programme through the activation of the Indo-Pacific regional warehouse," says BAE Systems Australia executive Andrew Gresham.
"It helps to secure the region as a nationally important aerospace hub."
BAE Systems Australia is heavily involved MRO work for the F-35. In 2015, Canberra awarded BAE and TAE Aerospace with MRO and upgrade work related to the programme.
This followed a US Department of Defense announcement in December 2014 that Australia and Japan had been assigned regional support roles for the fighter.
Australia is a major operator of the F-35A, which has replaced its Boeing F/A-18A/B "Classic" Hornets.
Cirium fleets data indicates that the Royal Australian Air Force (RAAF) has received 53 F-35As. The RAAF is committed to operating 72 examples, with this possibly rising to 100.