BAE Systems sees opportunities to extend production of the Eurofighter Typhoon beyond current orders for the type, as the company draws close to delivering its first example to Qatar.
A first Typhoon for the Qatar Emiri Air Force made its flight debut from BAE's Warton final assembly site in Lancashire last November. Doha has ordered 24 of the multi-role type, and deliveries are "on schedule to commence in 2022", the UK company says.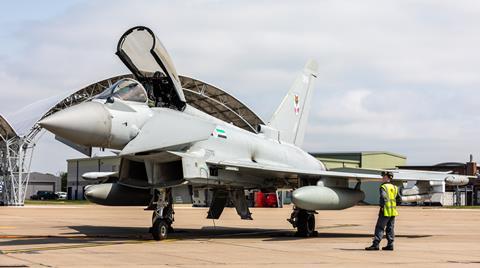 Typhoon training activities are already taking place in the UK involving a joint Qatari/Royal Air Force (RAF) squadron, with the first of Doha's BAE Hawk 167 advanced jet trainers also supporting the activity. The UK Ministry of Defence says it will deliver instruction for 32 Qatari pilots under the arrangement.
Manufacturing work is also under way in support of an Italian-led export order for Kuwait, and for the German air force's Project Quadriga acquisition of an additional 38 Eurofighters. "We expect further Eurofighter consortium orders," BAE chief executive Charles Woodburn said during a 24 February annual results call with financial journalists.
Spain is also being offered a follow-on batch of Eurofighters, to meet its Halcon programme requirement, and "There remain several export and sustainment and training opportunities", Woodburn says.
BAE also is an industrial partner on the Lockheed Martin F-35, and last year achieved full-rate output in support of the stealth fighter programme, delivering 151 rear fuselages to Fort Worth, Texas, from its Samlesbury site in Lancashire.
"The [F-35] production outlook is now relatively stable, having reached full rate, but we still see growth in that programme driven by some of the Block 4 retrofit capabilities on electronic warfare," Woodburn says.
Woodburn notes that BAE increased its research and development spending by 10% last year, in part in support of the UK's Tempest future combat air system programme, which is now in its formal concept and assessment phase.
BAE reported total sales worth £21.5 billion ($28.8 billion) for 2021, up from £20.9 billion the previous year. It ended 2021 with an order backlog valued at £44 billion.
The company last year sold its UK sites in Broughton and Filton as part of an infrastructure rationalisation effort, and in February 2021 concluded a deal to sell its 50% stake in Advanced Electronics Company to Saudi Arabian Military Industries, via a transaction valued at £214 million.