Bahrain has requested the purchase of 24 surplus Bell AH-1W Super Cobra attack helicopters from the USA, via a Foreign Military Sales deal worth an estimated $350 million.
Outlined by the US Defense Security Cooperation Agency (DSCA) on 29 March, the proposed acquisition of ex-US Marine Corps (USMC) assets has received initial approval from the US Department of State.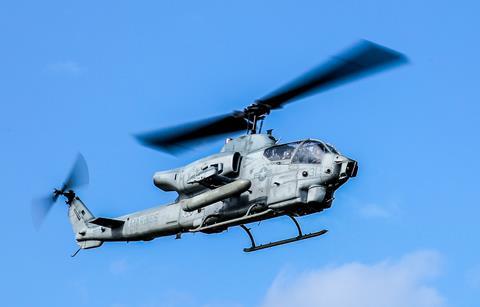 "The government of Bahrain has requested to buy equipment and services to refurbish 24 excess defense article AH-1W multi-role helicopters," the DSCA says. A transfer would also cover the delivery of associated spare parts, support and training services, plus a refurbished full-motion aircraft procedures trainer.
"The proposed sale will improve Bahrain's capability to meet current and future threats by improving its ability to fulfil maritime patrol, close air support, and search and rescue missions," the DSCA says.
The USMC ended operations with the AH-1W in October 2020, having fielded a replacement fleet of AH-1Zs. Cirium fleets data records 81 of the W-model aircraft as being in storage, with an average age of almost 33 years.
Bahrain – which the DSCA describes as "an important force for political stability and economic progress in the Middle East" – already operates a fleet of 22 legacy Cobras in the E- and F-model standards, plus eight AH-1P trainers, Cirium fleets data shows.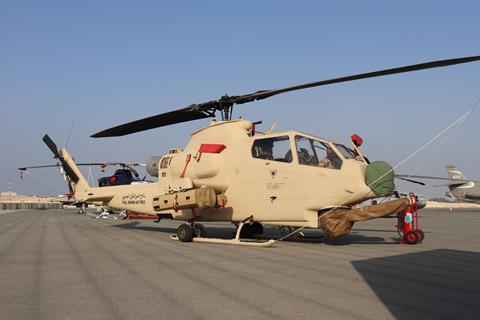 The Gulf Co-operation Council member nation already has funded a major upgrade activity to its in-service fleet, including the integration of new sensors and air-launched weapons by Turkish industry.
Bell earlier this year also completed deliveries of 12 new AH-1Zs for use by the Royal Bahraini Air Force, with the last of these to be shipped to the Middle East later this year.
Cirium data shows that the AH-1W is also operated by Taiwan (62) and Turkey (12).
Additional reporting by Greg Waldron in Singapore

Craig Hoyle joined Flight International in 2003, and has edited the now monthly title since 2015. He has reported on the UK, European and international military aviation sector for more than 25 years, and produces our annual World Air Forces directory.
View full Profile