One of Bahrain's newly delivered Bell AH-1Z attack helicopters broke cover on the opening day of the Bahrain International Airshow, with the "Zulu" appearing in the static display.
Manama in November 2018 ordered 12 of the rotorcraft, with the deal having an estimated value of more than $900 million.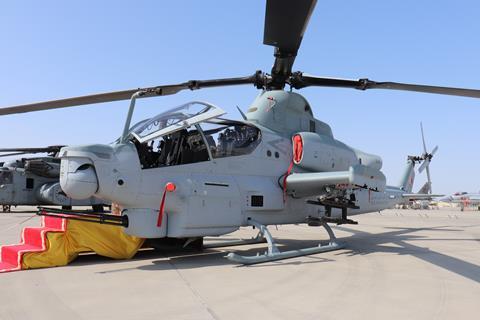 The aircraft making its debut appearance – which carries the registration 2201 – is one of six Royal Bahraini Air Force (RBAF) examples delivered to the country since earlier this year, Bell H-1 programme director Mike Deslatte tells FlightGlobal.
"This is the first presentation of an FMS [Foreign Military Sales] AH-1Z anywhere in the world, so we're really excited," he notes.
Bahrain's newest air force assets arrived from mid-year aboard freighter aircraft, but had not been displayed publicly before.
"We'll have all the rest of them built and completed by the end of this year," Deslatte says, with work on the total production programme around 75% complete at the company's Amarillo site in Texas. Bell also has already delivered a flight training device to legacy AH-1 Cobra operator Bahrain to support its introduction of the new model.
With a maximum gross weight of 8,390kg (18,500lb), the AH-1Z has a useful load of around 2,600kg – sufficient to carry a variety of air-launched weapons.
While Bahrain's armaments choice for the Zulu is not on show, the US Defense Security Cooperation Agency in April 2018 detailed a potential package including Lockheed Martin AGM-114 Hellfire air-to-surface missiles and BAE Systems APKWS II precision-guided rockets. The aircraft – which carries a 20mm cannon beneath its nose – can also be armed with Raytheon AIM-9 Sidewinder air-to-air missiles.
The RBAF currently operates 30 examples of the Cobra, in the E/F attack standards and P-model training configuration. The in-service assets are an average of 27 years old, Cirium fleets data shows, and the subject of an ongoing upgrade programme not involving Bell.
Meanwhile, Deslatte believes the RBAF could have a potential future need to update its transport helicopter fleet, due to the advanced age of its Bell 212/412 inventory.
The company's UH-1Y "Yankee" – which features 85% parts commonality with the AH-1Z – could be a candidate if such a need emerges, but he notes: "Even our latest versions of the 412 could potentially be a good fit for the Bahrainis as well. We have got a number of different things in our portfolio that could serve them quite well."
In addition to producing Bahrain's new Zulus, Bell is under contract to build four AH-1Zs and eight UH-1Ys for the Czech Republic. All are scheduled to be delivered to the NATO member nation during the course of 2023, via the US government.
Such export business is now sustaining the H-1 programme, with Bell having in early November handed over the 189th and last AH-1Z produced for lead operator the US Marine Corps. The service maintains an active fleet of 159 of the type, which is powered by twin GE Aviation T700-401C engines.
"We are laser focused on continuing our Foreign Military Sales and the production line of the UH-1Y and AH-1Z," he says, while declining to identify any potential future customers.

Craig Hoyle joined Flight International in 2003, and has edited the now monthly title since 2015. He has reported on the UK, European and international military aviation sector for more than 25 years, and produces our annual World Air Forces directory.
View full Profile