Bahrain's first of 12 Bell AH-1Z attack helicopters has been handed over to the US Naval Air Systems Command (NAVAIR), ahead of its formal delivery to the Gulf state.
"The helicopter will be prepared for shipment with the [US] Defense Contract Management Agency before being transported to Bahrain in 2022," Bell says. Its lead example carries the service registration 2200.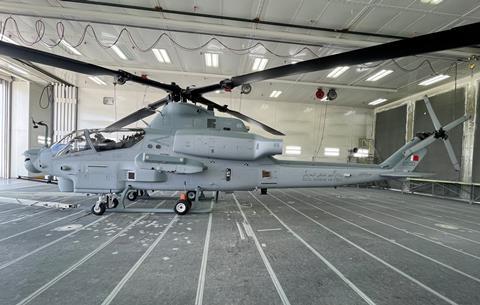 Manama in late 2018 confirmed its AH-1Z acquisition via the US Foreign Military Sales programme. The Royal Bahraini Air Force – which Cirium fleets data shows as currently operating 30 earlier-generation AH-1E/F/Ps – will be the first international customer to field the "Viper" model, following lead user the US Marine Corps (USMC).
"The Viper will provide significant benefits to the Bahrain Defence Force as they modernise their fleet of attack helicopters," says Mike Deslatte, Bell H-1 vice-president and programme director.
The airframer notes that its AH-1Z is also in production for the USMC and the Czech Republic. Prague will field four of the type, along with eight Bell UH-1Y transports.