Belgium's acquisition of MQ-9B SkyGuardian unmanned air vehicles (UAVs) has been advanced, with General Atomics Aeronautical Systems receiving a contract worth almost $189 million.
Announced via the US Department of Defense (DoD) on 14 August, the Foreign Military Sales programme deal covers four air vehicles and two ground control stations (GCS), plus spare parts and support equipment.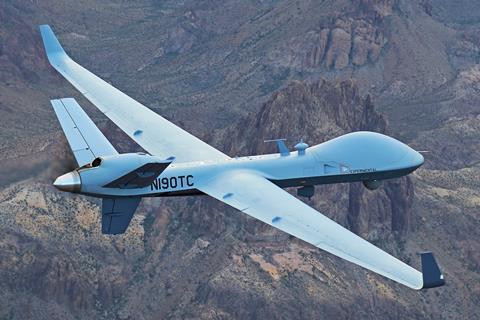 "Work will be performed in Poway, California, and is expected to be completed [by] 31 March 2024," the DoD says.
Washington had in March 2019 approved a potentially $600 million MQ-9B programme for Belgium.
Brussels earlier this year announced plans to pull forward the planned retirement of its Israel Aerospace Industries B-Hunter UAVs, to enable its military to focus on the SkyGuardian's introduction from 2023.
General Atomics in July also received a £65 million ($85 million) order from the UK to produce a first batch of three SkyGuardian-derived Protector RG1 UAVs and three GCS, for delivery to the Royal Air Force.
Also referred to as the Certifiable Predator B, the SkyGuardian will be equipped with sense and avoid technology to enable the medium-altitude, long-endurance type to be flown in non-segregated airspace.