Bell has begun promoting a VIP version of the V-22 tiltrotor it produces in partnership with Boeing, designed for head-of-state transport missions.
To date, the airframer has sold the Osprey solely for military applications, chiefly to the USA, where is it operated by the air force, marine corps and navy; Japan is the only export customer, with an order for 17 examples.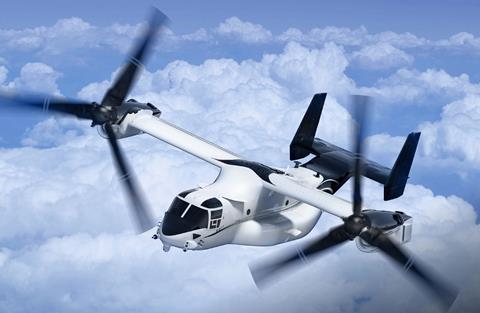 But Bell believes the "versatile" nature of the platform could open additional sales opportunities: "VIP transport is one of many missions the V-22 is capable of for potential customers," says the airframer.
Although no development activity is under way, Bell has carried out "conceptual work" in order to "assess some of the options available for dedicated VIP V-22s."
In a standard troop transport configuration the Osprey can accommodate 24 personnel in its cabin. However, visuals released by the manufacturer show a much more spacious VIP layout including club-seating and a three-person sofa.
"The VIP V-22 offers the same tiltrotor capabilities that provide the unique combination of speed and versatility that no other production aircraft can provide to users," Bell adds.
However, those hoping for a dedicated civil version of the Osprey are likely to be disappointed: the V-22 Joint Program Office (JPO) says there are "no current plans to certify the V-22 for civilian use".
Nonetheless, governments seeking a head-of-state tiltrotor would still be able to acquire a VIP V-22 through the USA's Foreign Military Sales process, the JPO confirms.
At present, the US Defense Security Cooperation Agency says 179 countries and international organisations are eligible to participate in FMS activity.
The V-22 remains the only tiltrotor on the market, although Leonardo Helicopters is developing its AW609, which is destined for civil-only applications.