Germany's BAAINBw procurement body has awarded ESG Elektroniksystem und Logistik a 'Sea Falcon' programme contract to provide three unmanned aircraft systems (UAS) to the nation's navy.
To be acquired for use from the service's K130 corvettes, each system will include two UMS Skeldar V-200 vertical take-off and landing unmanned air vehicles and a ground control station, plus support equipment spare parts.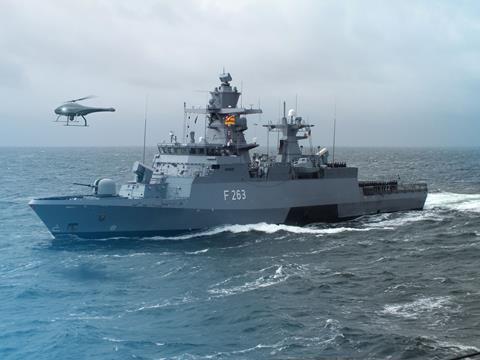 Equipped with an electro-optical/infrared sensor, the V-200 will provide extended reconnaissance and identification services for its host vessel, with a 5h flight endurance. With a maximum take-off weight of 235kg (518lb), including a potentially 40kg payload, the aircraft has a 75kt (138km/h) maximum speed.
ESG notes that the unmanned rotorcraft can take off and land automatically on the ship's deck in wind speeds of up to 20kt and moderate waves up to sea state 3 conditions.
Under the terms of ESG's four-year prime contract, a first system will be delivered to support integration work with the K130 and personnel training activities.
The remaining two systems will be transferred during a subsequent series production phase, with one to be embarked and the other retained for land-based training.
"Throughout the last few years, we have provided mission-based evidence of our capabilities that have ultimately demonstrated why the Skeldar V-200 is the leading maritime UAS in its weight category," says UMS Skeldar chief executive Axel Cavalli-Bjorkman. "We look forward to working with ESG and the partners to fulfil this next phase of the contract."
The German navy has so far introduced five Braunschweig-class K130 vessels, each with a displacement of 1,840t, and plans to increase this fleet size to 10 ships.