Boeing took a fresh $402 million pre-tax charge against its KC-46A tanker programme in the fourth quarter of last year, the company disclosed in its full-year results for 2021.
The company's Defense, Space & Security business unit reported revenues worth $5.9 billion in the last three months of last year, from just over $26.5 billion in total for 2021. This total was up 1% from around $26.2 billion in 2020.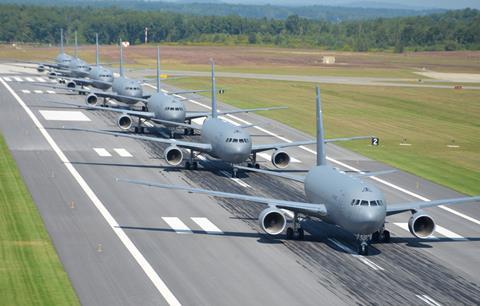 A total of 169 military aircraft were delivered by the company in 2021, up from 154 the year before. This included 83 AH-64 Apaches, among them 56 remanufactured examples; 21 F/A-18-series jets; 20 CH-47 Chinooks (five of them remanufactured); 16 F-15s; 16 P-8As and 13 KC-46As: one fewer than in 2020.
Last year's shipments included the 50th KC-46A to be delivered to the US Air Force (USAF), which has a total requirement for 179 of the 767-based type. The milestone aircraft was transferred to Joint Base McGuire-Dix-Lakehurst in November.
The company has not detailed the factors behind the new charge against its USAF tanker programme, but has been working to resolve issues with its refuelling boom and associated remote vision system.
Boeing Defense, Space & Security ended the year with a backlog valued at $59.8 billion, with one-third of this sum being from non-US customers.
Fourth-quarter business highlights included a US Army Special Operations order for six MH-47G Block II Chinooks, and a contract to modernise the Royal Saudi Air Force's E-3A Airborne Warning and Control System (AWACS) aircraft.
Worth almost $398 million, the Phase 2 modernisation deal for Riyadh's five-strong AWACS fleet will support operations until 2040.