Despite challenges related to the coronavirus pandemic, Boeing continues to see opportunities across the Asia-Pacific for its fixed-wing military aircraft portfolio.
While the company has not lost any sales opportunities owing to Covid-19 in the region, it has seen some acquisition programmes delayed, as well as some supply chain challenges, according to Maria Laine, vice-president international sales and strategic partnership at Boeing Defense, Space & Security.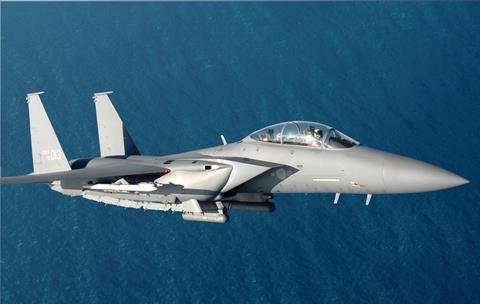 "But [there has been] nothing unsurmountable and nothing that has been a significant negative impact in any way," she says. 'It's been a journey for all of us to try to manage through a pandemic. And it doesn't come without challenges. But overall we've continued to see very robust demand for all of our products and services, and we've been able to manage through."
Laine notes that the Asia-Pacific region is one of the Boeing unit's fastest growing markets, pointing to forecasts that state that over one-third of new-build military aircraft over the next decade will go to Asia-Pacific countries.
Laine, speaking during a virtual media briefing, touched on several key programmes.
One success she highlighted relates to the long-running performance-based logistics (PBL) contract the company has to support the Republic of Korea Air Force's (ROKAF's) fleet of F-15K fighters. Over the last nine years, this has resulted in mission readiness rates of over 83%, one of the highest such rates globally for F-15 operators.
The company also has a contract for communications and interoperability upgrades to the F-15Ks.
As for the new F-15EX, which is being obtained by the US Air Force, Boeing is eyeing opportunities in India and Indonesia, although Laine says these potential deals are "still in fairly early stages". Longer term, there are also opportunities in the region for the developmental T-7A advanced jet trainer, but the focus for this platform is inducting it in USAF service.
Nonetheless, Laine reiterated Boeing's long-held view that there could be a global requirement for up to 2,600 T-7As in the coming decades.
"[The F-15EX and T-7A] continue to generate a lot of interest from international customers including in the Asia- Pacific region, as they also continue to modernise their fleets and enhance their force structures."
As for support platforms, Boeing is upgrading the ROKAF's fleet of four 737-based E-7A Wedgetail airborne early warning and control (AEW&C) aircraft, as it competes for a follow-on order for two additional AEW&C aircraft.
In addition, Boeing continues to see interest in its other military 737 variant, the P-8A Poseidon anti-submarine warfare (ASW) aircraft.
"In terms of the capability that it offers, at a good price point for the capability that it includes and entails, it is really a brilliant solution for many nations, particularly those with significant coastlines and the requirement for ASW capabilities."
Laine adds that the company's Insitu unit has tapped regional requirements for monitoring the littoral environment, with ScanEagle and Integrator deliveries to Southeast Asian customers such as Brunei, Indonesia, Malaysia, the Philippines, and the Vietnamese Coast Guard.