Boeing has been awarded a $599 million contract to begin producing 14 CH-47 Chinook Block II transport helicopters for the UK Royal Air Force (RAF).
Confirmed earlier this year, the Foreign Military Sales deal – worth a total of $1.4 billion – represents the first international success for the Block II Chinook. It involves extended-range examples equivalent to the MH-47G model also ordered by the US Army Special Operations Aviation Command.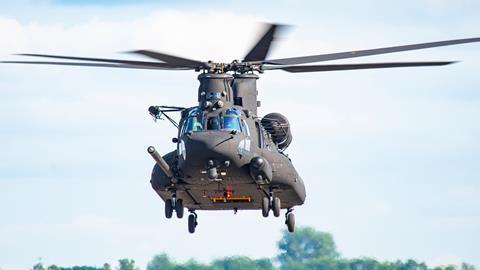 Deliveries to the UK will run from 2026, with the new rotorcraft to replace the RAF's oldest in-service Chinooks – it earlier this year marked 40 years of operations with the tandem-rotor type.
"The extended-range Chinook gives the RAF fleet more versatility to execute domestic and international heavy-lift missions," says Boeing.
Separately, the RAF in early June announced that its Chinook detachment supporting peacekeeping operations from Mali since July 2018 has surpassed 3,000h of flight activity.
The service says the commitment by its 1310 Flight "is primarily committed to conducting flight operations in support of the French Operation Barkhane, a counter-terrorist operation across the Sahel region of West Africa".
This has so far involved UK Chinooks transporting more than 18,000 French soldiers and delivered over 1,500t of freight, the RAF says.