Boeing has secured a 10-year support contract related to Singapore's fleet of F-15SG fighters.
The performance-based logistics (PBL) package was secured as a direct commercial sale, and Boeing field services representatives located with the Republic of Singapore Air Force (RSAF) will continue to support the platform.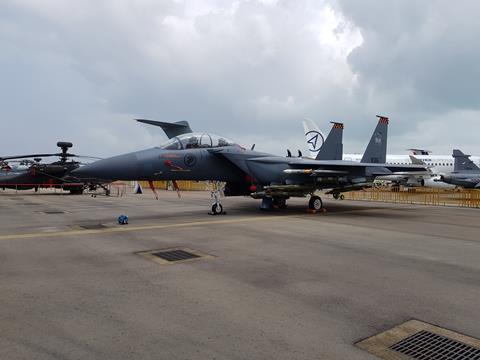 Boeing adds that this is its fourth PBL contract related to Singapore's F-15SGs. It did not give a value for the deal, or state the number of aircraft involved.
"This tailored, performance-based solution, coupled with Boeing's platform expertise, helps our Singapore customer to optimise the full capability of their fleet," says Andy Vest, director of Far East defense services for Boeing.
"We look forward to our continued partnership with Singapore and further supporting their mission readiness needs."
Boeing adds that PBL contracts allow for greater customisation around desired outcomes, such as readiness rates and parts availability.
Officially, the RSAF operates 24 F-15SG fighters, but Cirium fleets data indicates that the actual number is 40, with an average age of 8.8 years.
The type is mainly based in Singapore, with a detachment maintained a Mountain Home AFB in Idaho, the USA.