Boeing and Indonesian Aerospace have signed a memorandum of understanding (MOU) to look at areas where the two companies could work together should Indonesia obtain the F-15ID fighter.
The MOU was signed last week at the IndoDefence show in Jakarta, says the US airframer.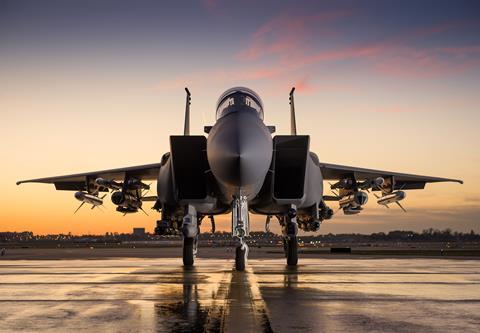 In February, the US government cleared the possible sale of 36 F-15IDs – the Indonesian designation for the F-15EX – for $13.9 billion. The approval came shortly after Jakarta placed an order for 42 Dassault Rafales.
Traditionally, Indonesian Aerospace (also known as PTDI), has been closer to Boeing's European rival Airbus.
The company produces the NC212i – an updated CASA C212 – and the CN235 tactical transports under license, and has work on other programmes.
"Boeing's 73 years of partnership with Indonesia's aerospace industry spans multiple programmes and services that advance national security priorities, grow economic development and build stronger communities," says Heidi Grant, president, business development, Boeing Defense, Space & Security and Government Services.
"This agreement with PTDI is an important step in achieving Indonesia's vision for economic development, technology transfer and talent development across the local industry."
Separately, a Bloomberg news story, citing unnamed sources, has said that people involved in the F-15EX deal are concerned that Jakarta will be unable to find the funding for the new fighter.