The Boeing F/A-18 Super Hornet has successfully completed a number of tests in India related to New Delhi's requirement for 57 carrier-capable fighters.
During the recent campaign at Naval Station Hansa in Goa, Boeing says that a pair of US Navy Super Hornets conducted "multiple launches" from a ski-jump ramp that simulates launching from an Indian aircraft carrier.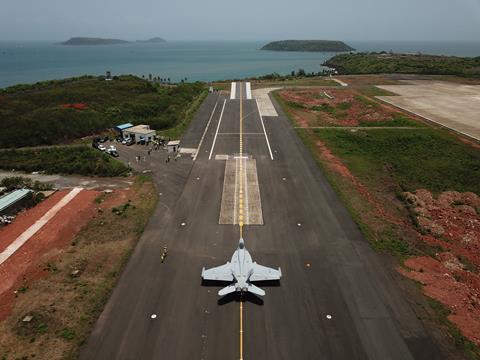 The aircraft also performed arrested landings, and operated flights with a range of weights in air-to-air, air-to-ground, and air-to-surface configurations.
Boeing says the aircraft met Indian Navy test requirements, and released a video showing the fighter undergoing tests.
"The Boeing team was privileged to showcase the F/A-18 Super Hornet's compatibility with Indian carriers in Goa," says Alain Garcia, vice-president, India business development Boeing Defense, Space & Security and Global Services.
"As the premier frontline multi-role naval fighter, the F/A-18 Super Hornet is one of the world's most proven and affordable multi-role fighters and continues to evolve with the development of the next-generation Block III capability, which will be game-changing for India."
Garcia adds that obtaining the Super Hornet would also allow the Indian Navy to benefit from "tactics, upgrades and knowledge" from the US Navy.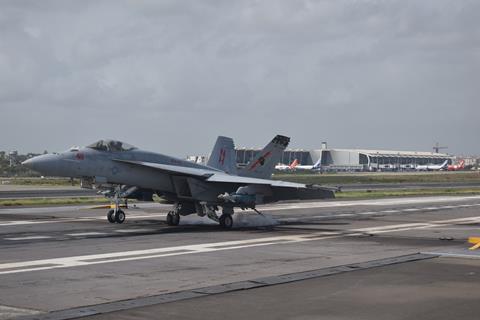 New Delhi has one operational carrier, the INS Vikramaditya, derived from the former Soviet Kiev-class carrier Baku. By American standards it is small, with a displacement of 45,400t, less than half that of the US carriers from which the Super Hornet typically operates. Vikramaditya's fixed-wing air wing now comprises 26 RAC MiG-29Ks.
In addition, New Delhi is preparing its first indigenously-built carrier, the INS Vikrant, for active service. The Vikrant's displacement is listed at 45,000t.
The Super Hornet's rival for the requirement is the Dassault Rafale M. Indian requirements call for the acquisition of single and two-seat fighters. While the Super Hornet has single and two-seat versions, the Rafale M only comes with a single seat.