Boeing has secured a contract worth up to $9.8 billion related to modernisation and support work for Saudi Arabia's F-15 fleet.
The Foreign Military Sales (FMS) contract is expected to be completed by 2025, according to the US Department of Defense contracts web site. The work will be performed by Boeing in St Louis, Missouri.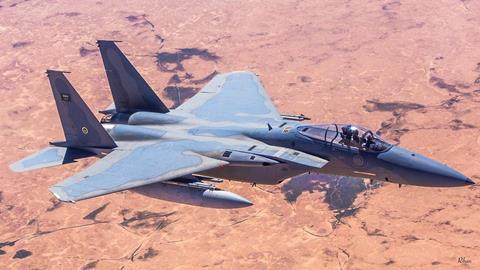 "This contract provides for modernisation and sustainment of the F-15 Saudi fleet to include such efforts as hardware, software, and interface design, development, integration, test, subsystem and structural component production and installation of future modifications and enhancements to the F-15 Saudi weapon system as well as product support," says the contract notification.
The statement does not specify the variant of F-15 involved, although the Royal Saudi Air Force (RSAF) basically operates three types of F-15.
Cirium fleets data shows that Riyadh has 228 examples in service. Of these, 80 are F-15C/Ds with an average age of 37.8 years. That total includes 59 C-model aircraft used in the air defence role, plus 21 F-15D trainers.
The RSAF also has 66 F-15S aircraft, a variant of the F-15E Strike Eagle, which have an average age of 22.4 years. In 2012, Boeing was awarded a $1.84 billion FMS contract to develop kits to upgrade 68 examples to a new F-15SA standard.
Finally, Saudi Arabia's most modern F-15s are 88 new-build F-15SAs, with an average age of just 5.1 years.
In addition to fly-by wire controls, the F-15SA has a digital electronic warfare suite, an infrared search and track system and a Raytheon APG-63(V)3 active electronically scanned array radar. The aircraft's forward and aft cockpits feature advanced displays and joint helmet-mounted cueing systems. The new F-15 variant also has two additional wing weapons stations to boost its payload.