Boeing has stepped up its campaign to sell a combination of F/A-18E/F Super Hornets and EA-18G Growlers to Berlin, by issuing a request for information to potential local equipment suppliers.
Announcing the move on 12 January, the US manufacturer said its recent request was "issued to more than 10 German companies to solicit bids", without identifying any of them.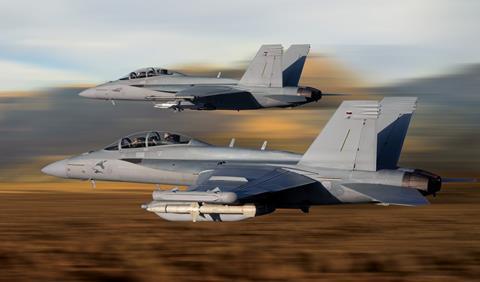 "German industry partners will play a significant role in providing support equipment, logistics and overall maintenance, parts, local sustainment programmes, training, and other relevant repair and overhaul solutions for Germany's potential Super Hornet and Growler fleet," Boeing says.
The company points to future in-country sustainment business as being worth around $4 billion over the life of the programme.
"Germany is home to outstanding aerospace expertise and innovation and we look forward to expanding our partnerships locally for Germany's F/A-18 Super Hornet and EA-18G Growler fleet," says Michael Haidinger, president of Boeing Germany, Central and Eastern Europe, Benelux and the Nordics.
"With this partner expansion strategy, we are laying the foundation for new business opportunities for German industry champions, high-skilled new jobs and long-term economic growth."
The airframer points to the Block III Super Hornet's "advanced, proven capabilities, as well as low life-cycle and acquisition costs", and claims that its proposal represents "the most cost-effective solution" for Berlin.
"The combination of Super Hornet Block III and EA-18G Growler will give the Luftwaffe unmatched capability in both air-to-air and [anti-]surface-to-air missions," Boeing says.
Berlin is seeking replacements for parts of its Panavia Tornado fleet respectively tasked with performing nuclear-strike and electronic warfare duties. Other potential candidates include Lockheed Martin's F-35A and Airbus Defence & Space-assembled Eurofighters, although the latter type currently has no nuclear weapons or dedicated EW capability.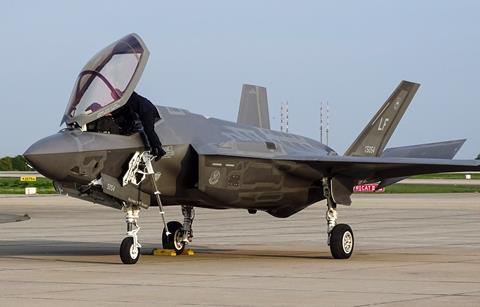 Cirium fleets data indicates that the Luftwaffe still operates a total of 111 Tornados, split between the interdictor strike (81) and electronic combat and reconnaissance (30) variants.
Boeing was among the rival bidders rejected in Finland's HX fighter competition late last year, losing out to the F-35A for the 64-aircraft deal. It had offered Helsinki a mixed fleet of Block III Super Hornets and EA-18Gs, with the Eurofighter Typhoon also having been in contention.