The Brazilian air force (FAB) has accepted its first Embraer EMB-145 airborne early warning and control (AEW&C) system aircraft to have undergone modernisation, with the type now re-designated as the E-99M.
Aircraft registration 6702 – the first of five to be returned to use – was handed over at Embraer's Gaviao Peixoto site on 27 November, the company says.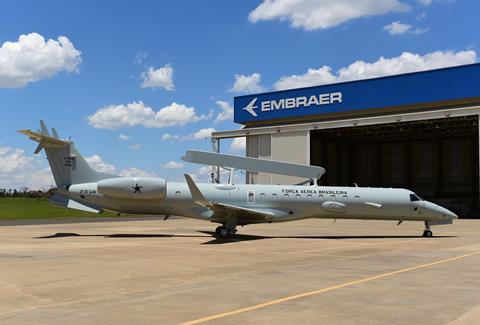 "For Embraer, it is a privilege to continue meeting FAB's needs to keep this robust and modern aircraft updated. It plays a strategic role in Brazil's defence system and has already proven its operational effectiveness," says Embraer Defense & Security chief executive Jackson Schneider.
Embodied by Brazil's COPAC, the modernisation spans updates to the platform's "mission systems and related subsystems, including electronic warfare, command and control [and] electronic countermeasures", says Embraer, which is among multiple companies supporting the effort.
Enhancements also have been made to the type's Saab Erieye surveillance radar, with support from the Swedish company. Other parties involved include Aeroelectronica International and Rohde & Schwarz.
Embraer says the enhancements will boost the Brazilian air force's "capacity to carry out flight control and alarm missions and electronic reconnaissance, among others".
Additionally, "The project entails technology transfer agreements that will enable advancements for the Brazilian defence industry", the airframer notes.
Operations with the E-99M fleet will also be supported by a new training suite featuring six mission planning and analysis stations, supplied by Embraer company Atech.
Cirium fleets data shows that Brazil's twinjet AEW&C assets are aged between 17 and 21 years.