The UK Ministry of Defence has contracted Elbit Systems UK to equip the British Army with Magni-X micro-uncrewed aerial systems (UAS) from later this year.
Weighing up to 2kg (4.4lb), the vertical take-off and landing quadcopter can carry a variety of payloads, including an electro-optical/infrared sensor. This enables the platform to provide "extensive long-range reconnaissance capabilities", including during autonomous flight, Elbit says. Operating endurance is cited as up to 1h.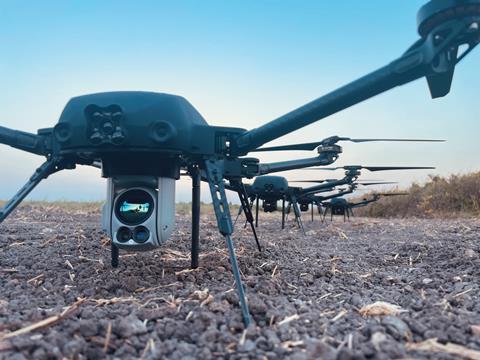 "The proven micro-UAS will be delivered to specialist army units for service by mid-2023," the company says, adding that the UK also has an option to acquire "many further systems" of the type.
Elbit notes that the Magni-X also can be integrated with its Legion-X mission system for so-called swarming operations involving multiple air vehicles.
"The unique capabilities of these systems demonstrates our commitment to being at the forefront of technological advances to support the integration of robotics and autonomous systems to enhance the British Army's capabilities," says Elbit Systems UK chief executive Martin Fausset.
The MoD in December 2022 also awarded prime contractor Lockheed Martin UK a 10-year contract worth £129 million ($157 million) to supply the British Army with 159 Indago 4 rotary- and 105 Stalker VXE30 fixed-wing UAVs. With respective weights of 2.2kg and 20kg, the types are scheduled to achieve operational status by the end of 2024.

Craig Hoyle joined Flight International in 2003, and has edited the now monthly title since 2015. He has reported on the UK, European and international military aviation sector for more than 25 years, and produces our annual World Air Forces directory.
View full Profile