Canberra will redefine the mission of its Leonardo C-27J Spartan tactical transports to focus on the humanitarian and disaster relief mission.
According to Australia's Department of Defence, the aircraft's new role will support the humanitarian mission both in Australia and the surrounding region.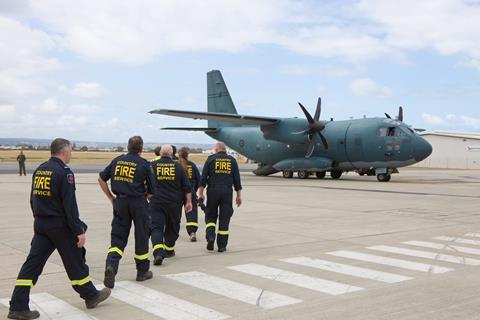 "The Spartan demonstrated its specific capabilities during the 2019/20 Australian bushfire crisis by safely evacuating 2,400 fire-affected community members and resupplying remote communities that were inaccessible by larger aircraft, which included moving 300,000 kilograms of cargo," says Royal Australian Air Force (RAAF) chief Air Marshal Mel Hupfeld.
"The Spartan conducted these missions at a range that exceeded the ability of defence helicopters because of its flexibility and the inherent operational characteristics of a light tactical fixed-wing aircraft."
Head of air force capability, Air Vice-Marshal Cath Roberts, says that on exercises the Spartan has delivered stores effectively to remote, austere airbases. The aircraft has also transported medical supplies to New Guinea to help support efforts against the coronavirus pandemic.
The statement does not state the degree to which the C-27J will retain its role as a battlefield airlifter, which requires it to airdrop paratroopers, ferry cargo, and conduct aeromedical evacuations.
The RAAF sees the aircraft as a bridge between the Boeing CH-47F helicopter and larger fixed-wing transports such as the Lockheed Martin C-130J and Boeing C-17.
In May 2012, Australia placed an order for 10 C-27Js through the US government's Foreign Military Sales programme. The RAAF received its final example in 2018, with the aircraft operated by its 35 Squadron.
The C-27J succeeded the de Havilland Canada DHC-4 Caribou aircraft under the Air 8000 Phase 2 requirement. Although popular with the RAAF, the obsolescent Caribou was retired in 2009. The C-27J's rival for the requirement was the Airbus Military C295.