Collins Aerospace has secured a contract from Boeing to upgrade the electric power generation system (EPGS) aboard US Air Force (USAF) B-52 bombers.
The new EPGS will replace the 70-year-old electrical system aboard the bombers, says Collins. Benefits include a 30% improvement in fuel efficiency, as the new EPGS will require less engine power.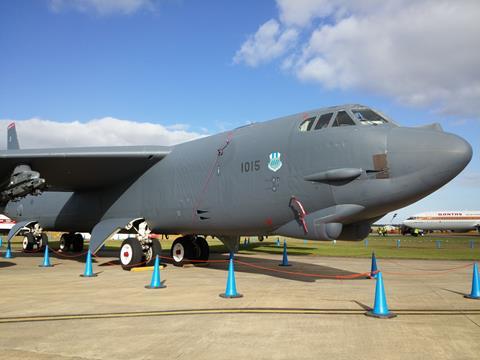 The installation will involve eight generators per aircraft, furnishing the onboard electricity to support upgrades to the type's radar, avionics, and mission systems.
The company has not provided a value for the deal, nor list the number of airframes. However, the USAF has 76 B-52s in its inventory.
"Collins Aerospace is a leading provider of electric power systems for military platforms and the supplier of choice for virtually all US Air Force aircraft," says Stan Kottke, vice-president, Electric Power Systems for Collins Aerospace.
"Our new EPGS for the B-52 will leverage proven commercial technology to support greener aircraft operation while also paving the way for future platform enhancements that will extend the operational service life of the Stratofortress for decades to come."
Collins has also been selected to provide new wheels and brakes for the venerable type. The company adds that it is working with Boeing and the USAF on other B-52 modernisation efforts, including communications and avionics.
The B-52 saw a major milestone in September 2021, when Rolls-Royce won a $2.6 billion USAF contract to replace the fleet's engines.
The award is for 608 examples of the company's F130, a military derivative of the BR725 business jet engine. The contract also includes spare engines, support equipment, engineering data and sustainment services.
Boeing is contracted to integrate the engines with the bombers. It will modify the first two B-52Hs by the end of 2025 ahead of ground and flight testing. The first lot of re-engined B-52Hs are to be finished by the end of 2028, with the entire fleet re-engined by 2035.