Continued uncertainty caused by the coronavirus pandemic has led show organisers to cancel the Royal International Air Tattoo's (RIAT's) 50th anniversary event, which had been scheduled to run from 16-18 July.
Announcing the decision on 16 February, the RAF Charitable Trust Enterprises said its directors concluded that "the ongoing uncertainty surrounding Covid-19 meant there were too many risks associated with pressing ahead with the airshow" at RAF Fairford in Gloucestershire.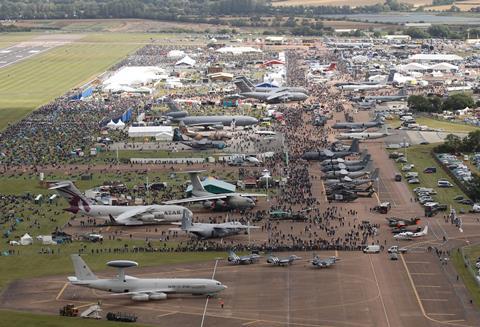 While it notes that six months of planning had been performed to explore ways of staging a show in line with health restrictions in the UK, RAFCTE says: "with five months to the event, there still remained too many unknowns".
"If we knew, with some degree of certainty what the situation would be in the summer, we'd be able to plan ahead but, the truth is, we simply don't know," says Air Tattoo chief executive Paul Atherton.
"We have reached a point where, to plan further, would involve us committing large sums of money to secure the event infrastructure. Without any insurance being available this year, this money would be lost if the airshow had to cancel nearer the time. It was simply too big a risk to take.
"Public safety is paramount, and we also have a duty to protect the future of RIAT," Atherton says. "By making this decision in a timely and controlled manner, we will be in a far stronger position to bounce back in 2022."
Advance ticket holders will be offered a refund, or the option to retain them for the event next year.
RIAT's 2020 gathering was also cancelled due to the pandemic, and the RAFCTE says it plans to mark the 50th anniversary milestone "both by building on the success of last year's inaugural Virtual Air Tattoo as well as other exciting activities, where possible".