The UK Ministry of Defence (MoD) is acquiring two Dassault Falcon 900LX business jets as replacements for its retiring British Aerospace BAe 146 VIP transports.
Announcing the procurement on 8 February, the MoD said it has finalised an £80 million ($108 million) deal involving Bristol airport-based services company Centreline AV.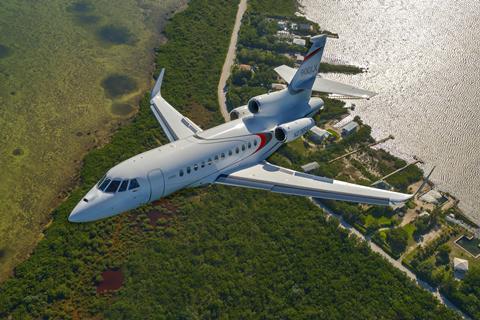 "The contract with Centreline includes the purchase of two Dassault 900LX aircraft and two years of initial support, plus three option years if required," the MoD says. It describes the French-built type as having been "the standout candidate in performance, cost value and time requirements" during its evaluation process.
"The new planes will be more sustainable thanks to their smaller engines, leading to a reduction in fuel burn and emissions," the MoD says. "They will also be able to fly further, providing the UK greater opportunity to engage with key allies and partners."
Dassault lists its 900LX as having a maximum range of 4,750nm (8,780km) with six passengers and two crew. The trijet has a service ceiling of 51,000ft, and a maximum Mach operating speed of M0.87.
"The two-phase programme will see the aircraft initially operated by a mixed crew of civilian and RAF personnel," the MoD says. "The aircraft will [then] be upgraded with missile jamming systems and military communications to deliver full capability and crewed by RAF personnel," it adds.
Service introduction is scheduled for "summer 2022", the MoD says, with the aircraft to be operated from RAF Northolt near London.
Sir Simon Bollom, chief executive of the UK's Defence Equipment & Support procurement organisation, says the deal represents "exceptional value for money and ensures this critical capability is available".
Centreline has had no prior business arrangements with the MoD. Cirium fleets data shows that its current charter inventory includes three Embraer Legacy 500s and two Phenom 300s, plus lone examples of the Falcon 8X and Cessna CitationJet CJ2.
A first of the Royal Air Force's (RAF's) departing BAe 146-100 quadjets (ZE701) was transferred to its new museum home at Duxford, Cambridgeshire, in late January, with the other (ZE700) soon to be flown to the South Wales Museum at St Athan. The VIP transports entered service in 1986.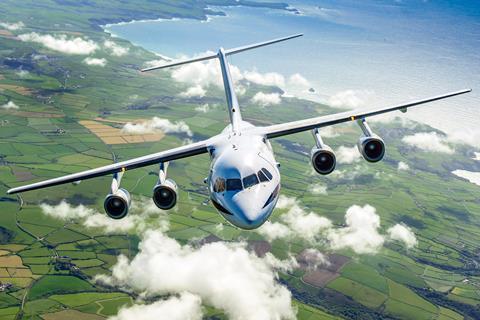 The RAF's pair of -200QC-model BAe 146 passenger/freighter aircraft are due to leave use by the end of March, and have been sold to commercial operator Pionair Australia. They will not be replaced, having been acquired in 2012 under an urgent operational requirement deal to support intra-theatre lift needs in Afghanistan.
Story updated with service introduction schedule and basing information.