Dassault Aviation may only have launched its ultra-long-range Falcon 10X business jet in May, but the airframer is already considering its future conversion into a maritime patrol aircraft (MPA) for the French navy.
That proposal had seemed unlikely when the twinjet was unveiled, as France's future MPA requirement was due to be met by a joint development with Germany.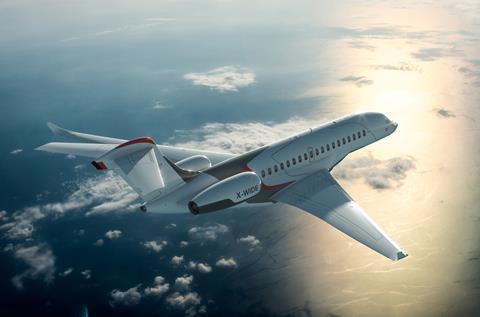 Paris and Berlin in 2018 had agreed to conduct feasibility studies under a project called the Maritime Airborne Warfare System (MAWS) for the eventual replacement of their respective Dassault Atlantique 2 and Lockheed P-3C Orion fleets.
But Germany on 30 June unveiled a $1.7 billion order for five Boeing P-8A Poseidon MPA. Although the country's defence ministry said the twinjets will only be operated until 2035 before the navy switches to the MAWS platform, details of the Foreign Military Sales approval from the USA indicate a 30-year lifespan. France is now considering pulling out of the planned joint project, La Tribune reports.
Presenting the airframer's half-year results on 22 July, Dassault chief executive Eric Trappier said that the company was "ready to propose the Falcon 10X" as an alternative MPA for France.
Dassault is already modifying its Falcon 8X and 2000LXS business jets for French military use under the respective Archange and Albatros programmes and Trappier says that process can be repeated with the Falcon 10X.
"You know that the performance of the 10X with its endurance, capacity and size are perfectly adapted to what a future maritime patrol aircraft could [be required to] do," he says.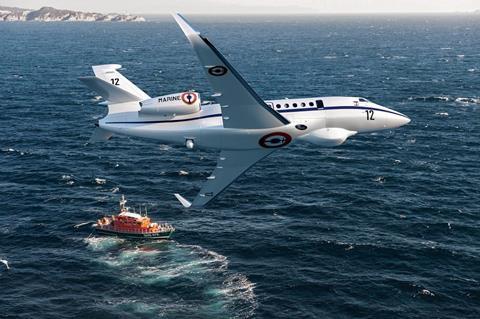 Due to enter service in 2025, the 7,500nm (13,900km)-range Falcon 10X is powered by twin Rolls-Royce Pearl 10X engines and will cruise at Mach 0.85, with a top speed of M0.925. It will be 33.4m (110m) long and have a 33.6m wingspan.
During the first half of 2021, Dassault's military business took in orders for 18 Rafale multirole fighters – six for Greece and 12 for France – taking its total backlog for the type to 67. However, that figure excludes a 30-unit top-up order from Egypt which has yet to be finalised, says Trappier.
Despite those successes, and the decision of Croatia to acquire used Rafales from France, Dassault missed out on a substantial order with Switzerland, which instead selected the Lockheed Martin F-35A for the Swfr6 billion ($6.5 billion) requirement.
Trappier says the company was "disappointed and surprised" by the contest loss, particularly the claims that the US jet would cost less to operate over a 30-year period.
Meanwhile, Dassault is hopeful that two future development contracts for pan-European programmes will be signed off in the coming months, allowing work to proceed on the next phases of the EuroDrone and Future Combat Air System (FCAS) projects.