Output of Rafale fighters will increase to three per month by the middle of the decade on the back of export sales success for Dassault Aviation.
Chief executive Eric Trappier, presenting the French airframer's full-year results on 4 March, said that production will increase to "cadence three" in the coming years from a planned two-per-month rate.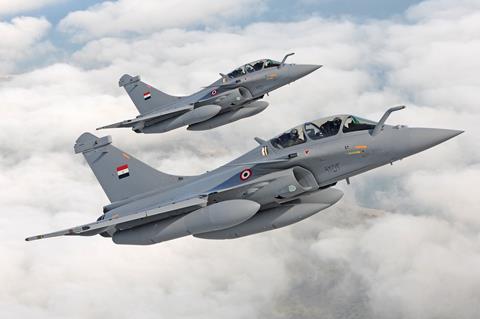 In 2021, Dassault booked orders for 49 examples of the multirole fighter: 31 for Egypt, 12 for France and six for Greece. The backlog for the Rafale at year-end stood at 86 aircraft, of which 46 are for the export market.
However, those figures do not include blockbuster orders from the United Arab Emirates (80) and Indonesia (42), which were respectively signed in December 2021 and February this year. Greece is also likely to commit to another six aircraft after gaining parliamentary approval for the deal earlier this year, and France is expected to commit to at least another 42 in 2023, under its fifth order tranche for delivery from 2027.
"The orders are such that we will have to ramp up to meet the contract deadlines in the coming years," says Trappier.
While deliveries of the UAE's aircraft are not due to start before 2026, those for Egypt and Indonesia are due "in the shorter term", leading to a "peak in our production".
Trappier says the manufacturer will still be able to accommodate additional orders if required, even in the near term.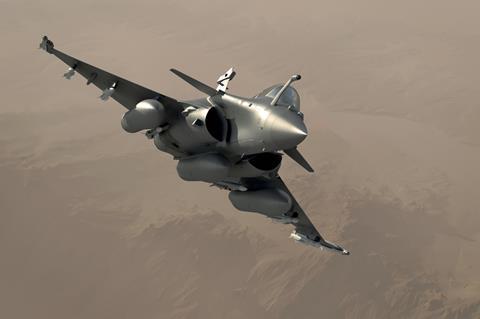 However, the sharp ramp-up will not take place in 2022, when Dassault will ship just 13 Rafales, down from 25 in 2021, all of which will again go to export customers, in this case Egypt and India.
Deliveries of the Rafale to France have been paused for several years "due to some budgetary choices" and are only likely to resume from 2023 or beyond.
"Very often the Rafale is the adjustment variable in the French budget," notes Trappier. "It is a good thing that we had export orders otherwise we would have had trouble maintaining the production line."
Last year Croatia also joined the Rafale operator community, signing for 12 secondhand examples from France.