Dassault has delivered the first new Rafale to its domestic customer since 2018, with the transfer of a B-model fighter to the French air force.
The F3R-standard aircraft – tail number B359 – was accepted by France's DGA defence procurement agency at Dassault's Merignac site on 29 December 2022. It is drawn from a 60-aircraft, "tranche 4" contract placed in 2009.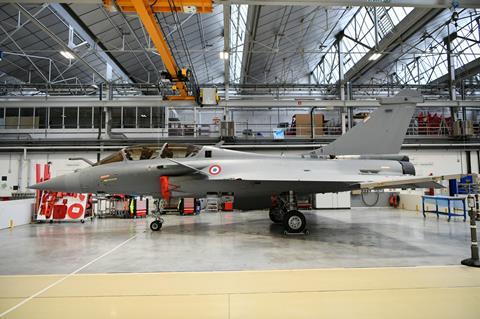 "This event marks the resumption of Rafale deliveries to France after an interruption of four years," Dassault says. Its production activities had during this time been dedicated to delivering fighters to export customers including Egypt, India and Qatar.
"A further 27 Rafale are still to be delivered for tranche 4, plus 12 ordered by France in 2021 to make up for the 12 aircraft sold to Greece," Dassault says.
The company in March 2022 announced that it will boost its output of the Rafale to three per month by the middle of decade, after securing major fresh orders from Indonesia (42) and the United Arab Emirates (80).
The airframer handed over 14 Rafales in 2022; a reduction from 25 the previous year.
Meanwhile, the manufacturer says it expects to receive a tranche 5 order from Paris during 2023. This has previously been projected as to cover the production of 42 aircraft.

Craig Hoyle joined Flight International in 2003, and has edited the now monthly title since 2015. He has reported on the UK, European and international military aviation sector for more than 25 years, and produces our annual World Air Forces directory.
View full Profile