Dassault Aviation has been awarded a long-term contract to maintain the French air force's Mirage 2000-series combat aircraft until their retirement next decade.
Announced on 17 January, the "Balzac" deal was approved by the defence ministry's Directorate of Aeronautical Maintenance.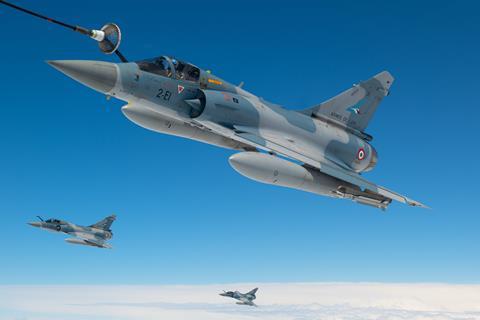 "With Balzac, Dassault Aviation is pursuing its long-term commitment and broadening its scope, with an availability guarantee, on a fixed-price basis, thus giving visibility to the French government and its industrial partners," the airframer says.
Under the terms of its 14-year contract, Dassault "becomes responsible for maintenance of almost all the equipment on the B/C, -5 and D versions of the Mirage 2000, including those which have undergone a mid-life update," the manufacturer says.
"The scope covers all electronic systems, in particular those produced by Thales. It also includes enhanced technical and logistics services, including a one-stop logistics centre at Luxeuil and Nancy air bases," it says.
The company will also establish a support presence at the AIA (aeronautical industrial workshop) facility in Clermont-Ferrand, and enable the "out-sourcing of certain workshops and end-of-life management of all equipment in order to optimise maintenance costs".
The overarching arrangement replaces provisions formerly covered by 15 separate contracts, it notes.
"Engine maintenance and the services provided by the SIAe [Service Industriel de l'Aéronautique] are the subject of separate contracts," Dassault notes.
"Our expertise as an industrial architect and complex systems integrator enable us to take on contracts of this type," says Dassault chief executive Eric Trappier.
"Balzac follows on from the Ravel maintenance contract for the Rafale, which was awarded in May 2019 for a period of 10 years, as well as the [10-year] Ocean maintenance contract for the Atlantique 2 maritime patrol aircraft," Dassault says.
Cirium fleets data shows that the French air force has 125 Mirage-series combat aircraft in service, split between the C (27), D (70) and -5F (28) models, plus six B-variant trainers. Its airframes are between 20 and 34 years in age.