Embraer has secured its second export buyer for the KC-390 Millennium transport/tanker, after Hungary signed for a pair of the twin-turbofan type.
Finalised in Budapest on 17 November, the deal will lead to deliveries being made to the NATO nation in 2023 and 2024.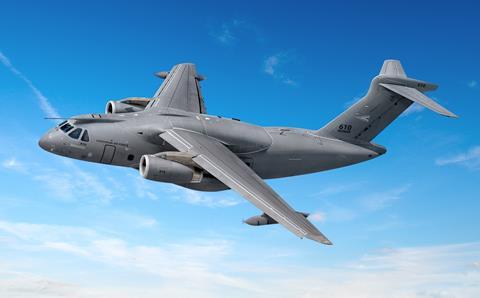 Embraer says the procurement will "strengthen the Hungarian defence forces' capabilities specifically in the tactical airlift, air-to-air refuelling and medical evacuation roles, as well as in other missions of public interest." The aircraft will be supplied with an intensive care unit-standard medical capability, it adds.
"We are acquiring a multi-role transport fleet, to fulfil the widest possible range of tasks within the national framework," says Gaspar Maroth, the Hungarian government's commissioner responsible for defence development.
The contract also covers Embraer's provision of pilot and technician training, along with in-service support and other related services, the Brazilian company says.
The Hungarian air force previously operated a trio of Antonov An-26s, but has already retired the Soviet-era type in advance of introducing a replacement capability.
Portugal last year ordered five KC-390s. Its first aircraft have entered production, and Embraer says the fleet is due to enter service within 2023. Launch customer the Brazilian air force has so far introduced two of the aircraft, from a 28-unit acquisition.