Embraer has begun the flight-test campaign for Portugal, its first international customer for the C/KC-390 transport and tanker.
The company announced the development on 1 September, releasing images and video of the aircraft in an all-grey Portuguese air force livery and carrying the temporary Brazilian registration PT-ZDK. It has not disclosed when the first flight event took place from its Gaviao Peixoto site.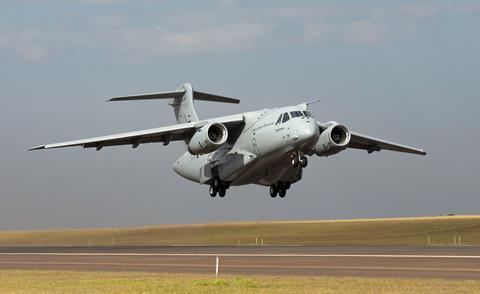 "Currently, the activities are focused on flight tests that meet the specific requirements of the Portuguese State, and are certified by Brazilian authorities, including the National Civil Aviation Agency and the Institute for Industrial Development and Coordination," Embraer says.
Following the conclusion of this work, Lisbon's lead C-390 will be flown to Portugal, where it will undergo the installation of NATO-standard equipment. The activity will be performed with the involvement of the airframer's local subsidiary, OGMA, before securing certification from the European country's National Aeronautical Authority.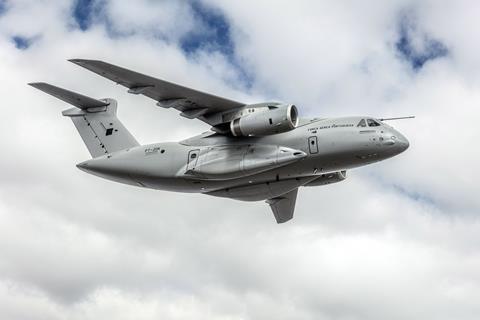 "All activities are being monitored by FAP [the Portuguese air force], with the first deliveries scheduled to begin in 2023," Embraer says.
Portugal in 2019 became the first export customer to commit to the C/KC-390, with its acquisition to total five aircraft, plus support services and a flight simulator. Lisbon also holds an option to later boost its fleet size to six examples.
Embraer notes that Portugal's involvement in the programme includes development and production, resulting in "a positive economic impact on the generation of jobs, new investments, increased exports and technological advances". Structures for the jets are manufactured in Evora in the centre of the country at sites initially established by Embraer but since acquired by Aernnova.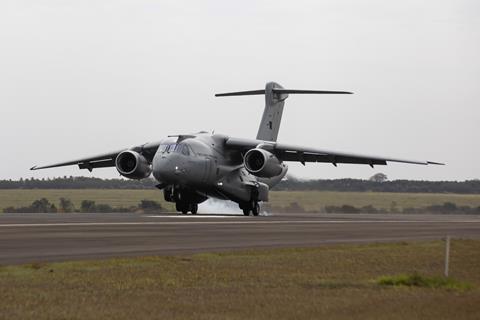 The company's other export buyers for type are Hungary, which is due to take its first of two airlifters in 2024, and the Netherlands, which earlier this year signed for five. Lead operator the Brazilian air force has so far received five of a contracted 22 examples.
Separately, Embraer announced on 29 August that the KC-390 will make its debut appearance at the Air Show event in Zeltweg from 2-3 September. Austria currently operates three ex-UK Royal Air Force Lockheed Martin C-130Ks in the tactical transport role, which Cirium fleets data shows are aged between 54 and 55 years.

Craig Hoyle joined Flight International in 2003, and has edited the now monthly title since 2015. He has reported on the UK, European and international military aviation sector for more than 25 years, and produces our annual World Air Forces directory.
View full Profile