Embraer has named Aeroplex as its preferred maintenance partner for the Hungarian air force's future two KC-390 Millennium transport/tankers.
Announcing the signature of a memorandum of understanding between the parties on 3 June, the Brazilian airframer said Aeroplex will become an authorised service centre provider, delivering "line and intermediate maintenance" for the twinjet type.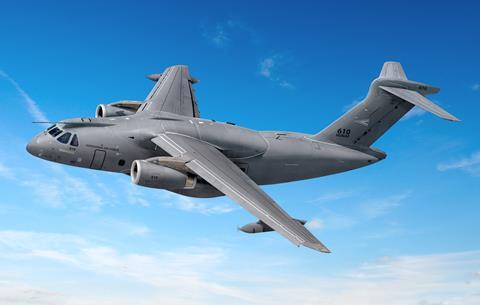 "The local MRO capability will become an operational advantage for the Hungarian KC-390s' support after entry into service," says Leonardo Lopes Ferrucci, head of Embraer Defense & Security Hungary.
"Aeroplex will apply all our knowledge and diversified portfolio to serve the KC-390 Millennium," says Demany Arpad, chief executive of the Budapest-headquartered company.
Deliveries of Hungary's KC-390s will begin in 2024, with its aircraft to be capable of conducting airlift tasks and air-to-air refuelling duties. Its new assets also will be equipped with an intensive care unit-standard medical evacuation capability, for use during humanitarian relief operations.
The NATO nation will follow Brazil and Portugal in introducing the International Aero Engines V2500-powered KC-390 to service.