The UK has performed the first landing of a Lockheed Martin F-35B Lightning combat aircraft aboard the Royal Navy's (RN's) second aircraft carrier, HMS Prince of Wales.
Achieved on 9 June, the milestone formed part of ongoing sea trials being conducted off the south coast of England as the vessel is advanced towards achieving full operational capability.
Conducted using an F-35B from the Royal Air Force's Marham, Norfolk-based 207 Sqn operational conversion unit, it was followed by a first take-off, performed using the vessel's ski jump ramp.
"We look forward in earnest to rapidly growing our experience operating the F-35B through further trials and training later this year," says Prince of Wales commanding officer Captain Darren Houston.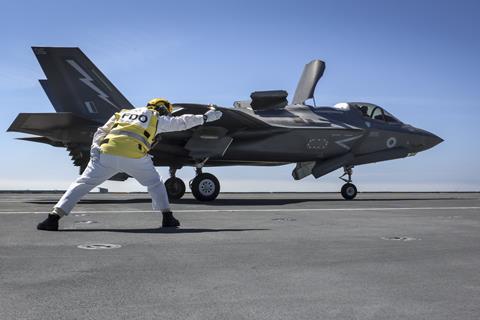 The 65,000t-class carrier left Portsmouth, Hampshire in early June to begin the latest phase of its sea acceptance trials. Three British Army Boeing AH-64 Apache attack helicopters had already been embarked ahead of its departure.
Once declared fully operational, the UK's Carrier Strike capability will combine its pair of aircraft carriers with the F-35B. Lead vessel HMS Queen Elizabeth recently left the UK on a nine-month Carrier Strike Group 21 deployment – its first operational commitment.
Commodore Steve Moorhouse, commander of Carrier Strike Group 21 – which the RN says is currently in the Mediterranean – notes: "Building one aircraft carrier is a sign of national ambition. But building two – and operating them simultaneously – is a sign of serious national intent."