Performance updates to the Pratt & Whitney F135 represent the best path to satisfying future increased power and efficiency requirements for the Lockheed Martin F-35, according to Greg Hayes, chief executive of Raytheon Technologies, the engine producer's parent company.
"We think that from a risk standpoint, as a single-engined fighter, an upgrade of the current engine is probably the most cost-effective, lowest-risk solution," Hayes said during an annual results call on 25 January.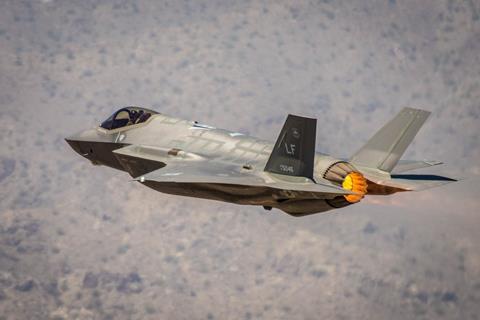 "Everybody understands that you're going to need more power and better fuel efficiency from that engine," he says, adding: "that's something that we're working with the customer on."
P&W is pitching an F135 Engine Enhancement Package (EEP) as an alternative to potentially replacing the existing 40,000lb-thrust (178kN) design with a so-called adaptive-cycle engine. The incumbent supplier and rival GE Aviation are both developing such systems to be compatible for integration with the F-35, and for a future class of US combat aircraft.
"Those engines are years away," Hayes notes, adding that they will also be more expensive than the current design. "The adaptive engines are really targeted for a sixth-gen fighter, which won't be fielded until the end of the decade."
Hayes notes that P&W's support activities linked to the in-service F135 fleet are rapidly increasing in volume.
"We hit about 80 overhauls of [F135] power modules last year, which is double what we saw in 2020. And that number is probably going to double again this year. We feel pretty good about the engine and where it is today," he adds.
Meanwhile, Raytheon Technologies on 25 January reported 2021 sales totalling just under $64.4 billion; down slightly from $64.6 billion the previous year.
These are the company's first set of full-year figures since the completion of a merger of the then Raytheon and United Technologies businesses in April 2020. Hayes says cost synergies of over $1 billion have now been realised, including a $760 million saving last year.
Raytheon Technologies' four units – Collins Aerospace, P&W, Raytheon Intelligence & Space, and Raytheon Missiles & Defense – ended 2021 with a combined order backlog valued at $156 billion, split 60:40 between commercial and defence activities.
The parent company projects its 2022 sales performance as likely to be in the region of $68.5 billion to $69.5 billion.