The Korea Aerospace Industries (KAI) FA-50 has won Malaysia's Fighter Lead In Trainer-Light Combat Aircraft (FLIT-LCA) requirement for 18 aircraft.
The deal is worth $920 million, and deliveries will commence from 2026, says KAI. In the longer-term, it expects Malaysia's total acquisition to grow to 36 examples.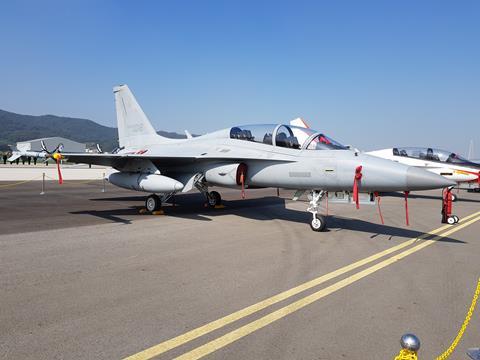 Kuala Lumpur's FA-50s will come with several enhancements, namely the ability to conduct air-to-air refuelling and an expanded weapons capability.
"This export is the fruit of strengthening cooperation between the two governments," says KAI president and chief executive Kang Goo-young. "KAI will play a role as a long-term partner through defence cooperation as well as successful delivery and operational support of [the] FA-50."
Kuala Lumpur, long in need of recapitalising its fast jet fleet, kicked off the FLIT-LCA requirement in June 2021, as part of the air force's Capability 55 plan issued in 2018, outlining its goal of reaching a desired force structure by 2055.
The requirement soon attracted an eclectic group of contestants. In addition to the FA-50, rivals for the deal comprised the Hindustan Aeronautics (HAL) Tejas, Chengdu-Pakistan Aeronautical Complex JF-17, RAC MiG-29, and the Turkish Aerospace Hurjet.
The FA-50 and Tejas were the only aircraft on the final shortlist.
With the deal, Malaysia becomes the third Southeast Asian country to acquire a T-50 family aircraft, after the Philippines and Indonesia.
Including Malaysia, KAI says it has sold 120 T-50 variants. Customers include Indonesia with 22, Iraq with 24, the Philippines with 12, and Poland, which last year ordered 48. The T-50 and FA-50 are also in service with the Republic of Korea Air Force.
At the Farnborough Airshow in July 2022, Lee Bong Keun, vice-president and general manager of KAI's international business division, told FlightGlobal that the company aimed to secure 1,000 international FA-50 sales over a 10-year period.
This number includes requirements from the US Air Force (USAF) and US Navy for additional training aircraft, as well as the need for "red air" aircraft to serve in aggressor training missions.
The FA-50/T-50 is powered by a single GE Aerospace F404 engine.