Finland has reached the mid-way point in its HX Challenge process: an in-country evaluation of the five types on offer to meet its future fighter requirement.
Candidate number three – Saab's Gripen E – late last month arrived at the Finnish air force's Pirkkala air base, before Helsinki received updated request for proposal responses from the Swedish firm and its rivals on 31 January. The deployment marked the first overseas commitment made using the new-generation model.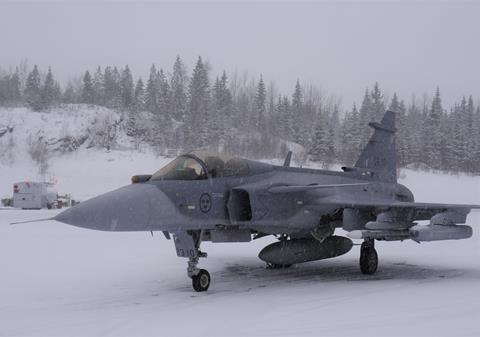 Saab sent its newest Gripen E test aircraft, 39-10, to the Satakunta Air Command facility on 29 January, with its dedicated two-seat sensor development platform 39-7 following two days later. The pair were involved in evaluations to test the type's suitability as a potential successor to Finland's Boeing F/A-18C/Ds.
Prior to making its first evaluation flight, Saab displayed aircraft 39-10 carrying MBDA Meteor beyond-visual-range and Diehl Defence IRIS-T short-range air-to-air missiles, plus its developmental electronic attack jammer pod.
Saab HX campaign director Magnus Skogberg describes the Gripen's key attributes as including its low operating cost, ease of maintenance and a proven ability to operate from austere landing strips and road bases – a particular requirement for Finland.
Saab will not disclose details of its latest response to Helsinki, but in June 2019 proposed a package including 52 Gripen Es, 12 two-seat Fs and a pair of GlobalEye surveillance aircraft.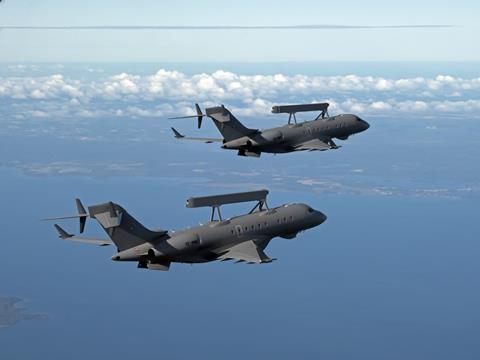 As part of its HX pitch, Saab is proposing that Finland have the opportunity to perform final assembly of some of its fighters and GE Aviation F414 engines – an activity which it believes will give the nation's industry the expertise required to support the type until 2060.
Saab also points to the increasingly close military cooperation between Helsinki and Stockholm, and its long-term business presence in Finland. The company today has roughly 120 employees in the nation: 36 with Saab Finland, working on systems including electronic warfare equipment, and the remainder with acquired cyber security company Combitech.
Finland previously flew the Saab Draken fighter, and last September ordered the company's combat mission system equipment for installation aboard its navy's corvettes, under the Squadron 2020 programme: business worth over €400 million ($472 million).
"We are a proud partner, with a large installed base," says Saab's head of surveillance business area Anders Carp, noting that it has had a presence in the country since 1946.
Uniquely among the HX candidates, Saab's proposal to Helsinki includes dedicated surveillance platforms, to be adapted from Bombardier's Global 6500 long-range business jet.
Finnish personnel flew aboard a Global 6000-based GlobalEye from Saab's Linkoping site in Sweden in support of the recent evaluation. The aircraft involved is among those nearing delivery to launch customer the United Arab Emirates.
Equipped with Saab's Erieye ER airborne early warning radar, a Leonardo Seaspray maritime radar, electro-optical/infrared sensor and electronic warfare (EW) equipment, the heavily modified is capable of simultaneously monitoring airborne, naval and land threats.
Carp notes that GlobalEye's long-range performance could provide Finland with an extra 20min warning of an attack while acting as a "flying C2 [command and control] centre". The aircraft would also enable it to use its Gripen Es in the most efficient manner when combat air patrol duties are required. "We hope the Finnish air force will appreciate this force multiplier," he adds.
Jonas Hjelm, head of Saab's aeronautics business area, does not consider the company's multi-tiered proposal to be a potential risk to its competitive prospects.
"We are not gambling at all," he says. "The requirement is about capability, and we think we have the perfect mix. We have been given quite large freedom to offer a suggested mix."
Hjelm tells Flight International that the Finnish opportunity represents "a key element supporting the programme for further development of the Gripen E" in conjunction with Sweden and launch export customer Brazil. It also offers a good opportunity "to refill the order stock" as it pursues additional sales, he adds.
The HX contest's evaluation phase kicked off in January with the deployment of two Eurofighter Typhoons to Pirkkala, with BAE Systems leading the consortium's campaign in the country.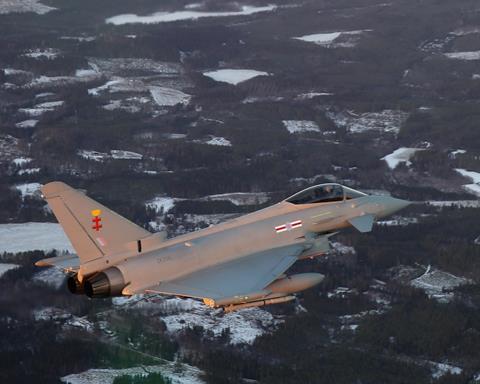 After submitting its updated response to Helsinki on behalf of the Eurofighter consortium, BAE says it is offering Finland "sovereign control of its defence capability and security of supply, as well as a combat-proven, swing-role aircraft which will form the backbone of European defence for decades to come."
Dassault's Rafale was the second type to undergo assessment, completing the activity in late January.
Lockheed Martin's F-35A will follow next, with four of the type having departed Luke AFB in Arizona on 4 February. The Lightning II has an evaluation window within the period 7-17 February.
The F/A-18E/F Super Hornet will be the last to visit, with Washington having given its initial approval for Helsinki to also be offered the EA-18G Growler electronic attack variant. The HX Challenge evaluations will wrap up with the Boeing type on 26 February.
The defence ministry has requested that contenders do not reveal the specifics of its technical evaluation, but has previously outlined a need to assess "the performance of electro-optical systems, but possibly other active and passive systems" under Finnish winter conditions.
Assessment activities are split across five areas: counter-air; -land; and –sea tasks; long-range strike; and ISTAR (intelligence, surveillance, target acquisition and reconnaissance) and C2.
"The environment here is challenging – not only the weather," says HX fighter programme director Colonel Juha-Pekka Keranen. "We are testing how the candidates perform in our environmental scenarios.
"We are testing the aircraft itself, and its connectivity to other systems and our C2 infrastructure," Keranen says. The air force also will be using mission planning and debriefing systems provided by the vendors.
Speaking at Pirkkala on 30 January, Keranen welcomed the arrival of what he described as "good bad weather", in the form of fresh snowfall and reduced runway friction. Conditions during the Typhoon and Rafale assessments had been unseasonably mild.
Referring to the Gripen bid specifically, he says: "We will test what Saab has put in its response – for example, whether the [Leonardo Raven ES-05] radar can detect a target at 100km [54nm]."
Despite the earlier meteorological conditions failing to provide expected seasonal challenges for BAE and Dassault, Satakunta Air Command commander Colonel Aki Heikkinen notes: "The first two [types] were tested successfully, as planned."
During a two-week wargaming exercise to be conducted later this year, the air force will use the data gathered through the current evaluations to model the performance of each candidate, including their weapons and sensors.
As well as providing fighters and support, contenders are required to deliver a package of direct or indirect industrial participation worth 30% of the total contract value.
"In their replies, tenderers have been asked to summarise the information they have provided in their initial offer and during the negotiations in a clear, updated and improved package," the defence ministry says.
Likely changes from the original responses have been informed by Helsinki establishing a fixed price cap for the acquisition.
"Our government has given us a €10 billion budget maximum, and we have to fit everything within that," Keranen says. Helsinki has mandated that its future system should have comparable operating costs to its current F/A-18s, with the air force to have the ability to make in-country updates to mission data.
"We hope we have received high quality, high performance and compliant offers," programme manager Lauri Pauranen writes in a blog post published following the latest bid submissions.
"The aim is that final bids will be requested in early autumn 2020, and with this scheduled timeframe, a procurement decision can be made in accordance with the government programme during 2021."
With initial operational capability scheduled for 2027, Keranen notes: "The first aircraft must arrive by 2025, to start training, for our air force to skill-up to operate a full fleet of HX." Deliveries should be complete in 2030.
Skogberg notes that the Gripen E will achieve full operational capability in 2023, following the completion of operational testing by Sweden and Brazil. Noting that its 2019 outline "could give some hints" about the capability now on offer, he notes: "we can supply a substantial number of fighters."
According to Skogberg, offering a subset of Gripen Fs means Saab has "a very sophisticated and powerful approach when it comes to EW in the HX programme." And he adds: "If it weren't for the cost-efficiency of the Gripen E, we wouldn't have GlobalEye in there."
Its pitch also includes initial in-service support until 2030, plus a "substantial weapons package", simulators, initial training and mission and ground equipment.