The first four of an eventual 24 US Air Force (USAF) Lockheed Martin F-35As to be based at Royal Air Force (RAF) Lakenheath in the UK arrived at the Suffolk base on 15 December.
Assigned to the 495th Fighter Squadron (nicknamed the Valkyries), the aircraft are the lead USAF examples of the fifth-generation stealth fighter to be based in Europe.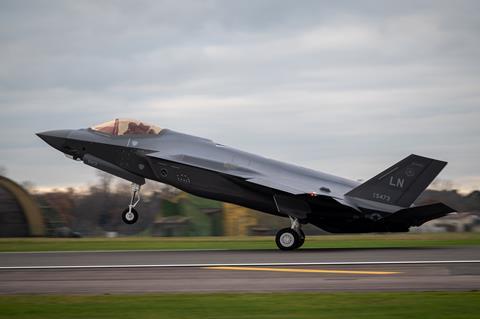 "This is the result of a force posture adjustment that has been six years in the making," says the USAF, which in 2015 selected RAF Lakenheath to accommodate the Lightning II jets. The location was chosen "based on very close ties with the RAF, existing infrastructure, and combined training opportunities", it adds.
"The UK is a critical component in training and combat readiness for [US] Air Forces in Europe due to its excellent airspace and F-35 programme partnership," the service says.
"The Valkyries are leading our F-35 integration across Europe. We've come a long way, and now we're extending our reach as a coalition force and what we will accomplish together," says General Jeff Harrigian, US Air Forces in Europe – Air Forces Africa commander.