France will shortly contract Dassault to supply the first seven of an eventual 12 Falcon 2000LXS-based maritime surveillance aircraft under its AVSIMAR programme.
However, all but one of the 12 aircraft will be built in India and converted in France as part of offset arrangements related to New Delhi's 2016 purchase of Rafale fighters.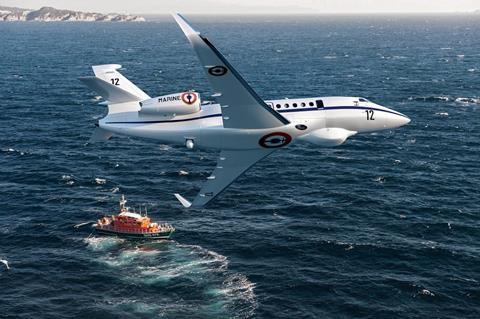 To be delivered from 2025, the "Albatros" will feature a multi-function radar, electro-optical camera, observation windows, a search and rescue kit release system, and dedicated communication systems.
Announcing the seven-unit order during a visit to Dassault's plant in Seclin, Florence Parly, the French minister of defence, said: "The surveillance of our coasts is essential: we have the second largest maritime area in the world, we must protect it from rivals, trafficking and accidents. These new Falcons will be our eyes from the air to the sea."
Eric Trappier, Dassault chief executive, adds: "It is only fitting that France, which has the world's second largest exclusive economic zone, should be at the forefront in the use of this type of aircraft."
Paris in 2018 signalled its intention to order the Albatros as a replacement for its navy's fleet of eight aged Falcon 50-based SURMAR aircraft, which are around 40 years old.