Pilatus has been awarded a contract to produce another nine PC-21 trainers for the French air force, in a move that will boost the service's fleet of the turboprop type to 26 aircraft.
Announcing its receipt of the order on 16 July, Pilatus said Paris will "reinforce its training programme" with the additional assets, which are to replace some of its remaining Dassault/Dornier Alpha Jets.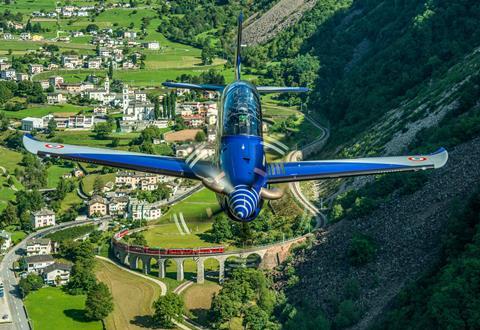 The French air force began operating the Swiss-built PC-21 in 2018, and has 17 examples in use at Cognac-Chateaubernard air base in the west of the country. Babcock International and Dassault deliver the training service via the F-Air 21 programme – previously referred to as FOMEDEC.
"The PC-21s will be deployed to train future military pilots who will subsequently step up to the nation's multi-role lead-fighter," the airframer says, referring to the Dassault Rafale.
Deliveries will be made from 2023, Pilatus says, with its follow-on contract also including "ground-based training systems and spare parts".
Cirium fleets data shows that there are a total of 210 PC-21s in current active service with the air forces of Australia, France, Jordan, Qatar, Saudi Arabia, Singapore, Switzerland and the United Arab Emirates. Spain also has 24 examples on order, with the first having entered testing last December.