The French air force should receive 13 new Dassault Rafales during 2023, with Paris also expected to this year sign a production contract for its final tranche of the multirole combat aircraft.
Detailing the delivery plan on 12 January, France's DGA defence procurement agency said shipments from the nation's 40-unit, fourth tranche deal are to be completed during 2025.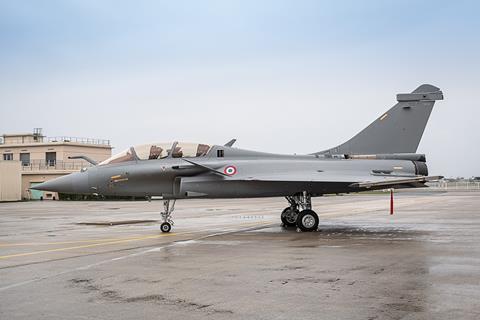 A first aircraft from the order – two-seat example B359 – was handed over to the DGA in late December, in the first such transfer for the French air force since B358 had been accepted in November 2018.
The agency notes that the four-year domestic delivery pause enabled Dassault to devote its assembly activities during the period to export customers, "making it possible to deliver 100 of the 224 new aircraft ordered to date by six other countries".
A total of 192 Rafales will have been produced for France by the end of 2025, with this total to include aircraft for the air force (142), navy (45), four used in support of development testing by industry, and a single example which will be employed by the DGA's Essais en vol flight-test unit. Deliveries began in September 1999, with B359 as the 153rd unit.
Accepted in the F3R operating standard, the recently delivered Rafale B will initially be employed in support of acceptance work for a new F4.1 standard, which the DGA says is "currently being approved… with a view to its start of deployment in 2023".
The new standard "incorporates hardware and software upgrades directly resulting from developments carried out in the context of export", plus enhanced cyber protection, "collaborative air combat capabilities" and the ability to deploy the 1,000kg (2,200lb) version of the Safran AASM air-to-surface weapon.
Meanwhile, "An order for 42 additional Rafales is scheduled for 2023", the DGA says. This commitment will represent a fifth and final tranche of production for the French military.
Cirium fleets data records the current global in-service Rafale inventory as totalling 240 aircraft, flown by France (94 air force and 40 navy), plus Egypt (24), Greece (10), India (36) and Qatar (36). The type is on order for Indonesia (42) and the United Arab Emirates (80), with Croatia also to receive 12 ex-French air force examples.
France is heavily involved in the three-nation Future Combat Air System (FCAS) endeavour with Germany and Spain, which seeks to deliver a manned successor for the Rafale for entry to service around 2040. Dassault is leading development work on the FCAS project's New Generation Fighter demonstrator, with flight testing expected to begin late this decade.

Craig Hoyle joined Flight International in 2003, and has edited the now monthly title since 2015. He has reported on the UK, European and international military aviation sector for more than 25 years, and produces our annual World Air Forces directory.
View full Profile